Profile:
HappyMomma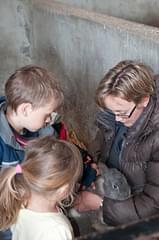 | | |
| --- | --- |
| About: | Finding joy (and making mess) sharing creative moments with my monsters! |
| Location: | Menlo Park, CA, USA |
Projects
Growing little apple trees from seed is great fun. It is a great experience for kids to be able to take a seed from a fruit that they have eaten and watch it grow into a little tree.
Watching the stone from an avocado tree grow is fascinating. Following this method, you can watch the growth of the roots and shoots. They grow incredibly fast with nearly daily changes being noticeable.
This craft from the brilliant kidscraftweekly.com turns a paper plate into a moving Brontosaurus!
Shaving foam and paint can be used by even the smallest artist to create beautiful marbled paper. Put that paper to good use in these gorgeous Valentines.
Place a battery operated candle inside these fun snowman and they will add sparkle to any winter gathering! I think I got inspiration for this project from a magazine but can't remember which!
Coat bananas in chocolate and sprinkles and freeze for a fun summer activity – and treat!
Grow your own crystal snowflake! These incredible snowflakes can be hung in your window as suncatchers or hung on your Christmas Tree as spectacular ornaments.
Transform a coffee filter into a butterfly with this simple craft that is ideal for toddlers or preschoolers - but which can be enjoyed by kindergartners too. The best bit - spreading the colors together: the little ones will have so much fun watching the paints squish and mingle (and making a mess). And the end product is fun to play with too
These translucent ghosts make a great Halloween activity - and look great as halloween decor - either hanging on windows as sun-catchers or around the house.
I love these little Jack o Lanterns - easy to make and so cute as decorations for your Halloween table.
A piece of laminate shelving is an indispensable item in our craft supplies. It makes an excellent surface on which to do craft activities - it is easy to wipe clean, easy to move etc. Usually we place ours on top of the kitchen table to make craft clean up easy. However, it also makes an excellent surface on which to do finger painting. Fingers glide easily over the surface - so much fun for little ones! And super easy to wipe clean. You can't keep the art work - but you can take plenty of photos!
Far from creepy - these cute spiders are super fun to make and keep as pets. Use different colored yarn and add wings to make different bugs.
These leaves are deceptively easy to create - even a preschooler can create them with minimal assistance.
When painted on watercolor paper, rubber cement will resist watercolor paints - keeping the paper underneath white. Simply rub off the cement when the paint is dry.
Very simple, very effective - create Christmas tree snow scene pictures by painting rubber cement onto watercolor paper in the shape of a Christmas Tree and painting.
Make these beautiful Valentine cards by painting hearts onto watercolor paper using rubber cement and then painting.
These easy to make airplanes are great fun to make and even better to play with. Preschoolers will love to fly these over and over again! You will need to help with assembling the plane but even small kids can help with painting it! These also make great gifts if you turn them into fridge magnets by adding a magnet to the base.
Using Sharpies to color on foil makes shiny art. You can also create embossed edges to your pictures by using glue to trace an outline underneath the foil. This is an especially cool effect for pictures of fish as they glimmer as if they were rushing through the water!
This project releases the magic of a glow stick into a lantern! Definitely one for older kids and requires adult supervision - but with caution this is a fascinating science project or which can simply just be done for fun! Ideal for camping trips or late summer nights in the yard!
Sidewalk Chalk is so much fun any time of year, but particularly in the summer. Making your own is super easy, way cheaper than the store bought options and kids of any age will enjoy helping out.
I've done this activity with my kids a few times now and it never fails to fascinate them - and me! Simply color bubble mix with food coloring and blow bubbles onto paper - as the bubbles land and pop, they create beautiful works of art. It goes without saying that this project is best done outdoors. A great one for those lazy summer afternoons.
A fun, refreshing and super healthy treat for the kids - watermelon popsicles! These are straightforward to make with a little patience and are guaranteed to be popular with the whole family. Make them for National Watermelon Day - celebrated on August 3rd each year.
Preschoolers will have great fun making these "watermelon slices" from paper plates. This is a great project to do with kids for a Letter W theme, or on National Watermelon Day.
Perfect to help your child keep track of his/her school bag, lunch bag or even suitcase, these foam tags are easy and fun to make. They would make a great back to school project or camp activity.
Duck Tape when stuck to itself makes a durable fabric that is ideal for making these cool pencil cases. To make duck tape fabric you simply cut two identical lengths of duck tape and then join them sticky side to sticky side. To join two pieces of fabric simply use another piece of tape. The challenge: to only stick what you want to stick!
These cute little monsters will keep your pencils in reach. Let your imaginations run wild to create weird and wonderful monsters of any shape and color out of air dry clay. A great project for boys to have on hand for a rainy day, as a back to school project or just as fun.
These flower pencil holders made of air dry clay will brighten up the desk of any little girl. They also make great gifts for mothers day, for teacher appreciation or for Grandma's Birthday.
These pencils are pencil cases! Great fun to make and very useful for storing all those pencils, crayons and pens. A fantastic project to do to celebrate going Back to School - or just because! This project is inspired by the brilliant Mister Maker.
Fed up of having pens, crayons, paintbrushes and pencils all over the place? Want to get organized before the kids go back to school? Why not have them make this popsicle stick desk organizer. This is a great engineering project that is fun to do - and so very useful! Customize the hight to suit your need - a few inches high to hold erasers or clips, 3 or 4 inches to hold crayons, or taller for pencils and pens. You can leave it unpainted, paint the popsicle sticks before you assemble, or paint the finish project. The choice is yours! This would also make a great gift for a teacher, or even for Dad for his Birthday or on Fathers Day.
A great upcycling project to tidy your office / school supplies. Take an old Oatmeal container, cut to size, cover in wrapping paper and decorate and there you have it, the perfect container to organize your pens, pencils and paintbrushes. You could make one of these for your teacher on Teacher Appreciation Day.
This project is incredible. The results are not only dramatic but are beautiful too - you'll be making art whilst learning about science. Your kids (whatever their age) will want to do this over and over so make sure that you have plenty of milk!
Celebrate 4th July with these celebratory homemade pinwheels.
Wrap a small jar of honey in red tissue paper, secure with twine, and add green leaves as gift tags and you have a wonderful gift. This is especially super for Teacher Appreciation and for the holiday of Rosh HaShanah. During this Jewish New Year holiday it is traditional to eat apple slices dipped in honey as a symbol of the desire for a sweet new year. It is traditional to give apples to teachers as gifts (a tradition dating back to the time when the community was often responsible for housing and feeding the teacher). You could replace the Honey with preserves.
What child with a drink and a straw doesn't love blowing bubbles? Not exactly behavior that we're generally encouraging (it doesn't exactly go down well at the dinner table). Which is why toddlers and preschoolers will love this activity: using straws to blow LOTS of bubbles in soapy water colored with food coloring - and then making art by placing paper on top of the bubbles.
Every fashion conscious Halloween or Thanksgiving party goer would love to be seen wearing this pumpkin ring. Fun to make, fun to wear - what's not to love!
Let your imagination go wild creating these fun crazy hair monsters. Have your kids start them a couple of weeks before Halloween and they will be ready to sit alongside your jack-o-lanterns on your doorstep, or take pride of place on your Halloween Party Table.
This is a fantastic project that will provide much entertainment for the kids. It is very exciting to watch as the hair begins to grow, and grow and grow. Use wheat grass seeds (available in most hardware or garden stores) for truly spectacular hairy growth.
These Suncatchers bring the best of fall to your room - they look pretty and the cinnamon used in the project makes your house smell great too! A perfect project to do with toddlers or preschoolers who will enjoy sprinkling the cinnamon.
Brighten up your windows this Halloween with these cheerful Jack-o-Lantern Suncatchers. They are made using pony beads, arranged and melted in tins.
These frog's don't just look good, they "ribbit"! My 3 and 6 year olds both loved these frog puppets. The wonderful thing about them is although adult help will be required to build the puppets, smaller children will enjoy painting the plates and creating the egg cup eyes and will be so proud of their finished froggies.
Mummies aren't supposed to be cute right? Well, these ones are! Kids in elementary school and older should be able to knock these together in 10 minutes. And then you can have fun bending them into poses (this can be truly hilarious). Or, use them to create cute table decorations - they could hold little name labels for place settings at your Halloween table....
Your kids will love making these little mummy pots for storing Halloween Candy. They are so simple and yet so effective. Preschoolers and Kindergartners should manage these without too much trouble and a little assistance, and by First Grade the kids should be able to do this project all by themselves without any trouble.
Catch and keep your own spider's web! What could be more cool than that? There are so many fascinating things about spiders and kids of all ages will enjoy learning all about them - did you know for instance that there are around 38,000 species of spiders! This is the perfect way to start a conversation or lesson about these amazing creatures whether your child is a preschooler, in elementary school or older!
Jackson Pollock was made famous for producing art from splatter's of paint. It's not uncommon to hear people viewing his art say - "my kids could do that". In this project, you let your kids try to do just that - and you will be amazed by the results. The finished artwork will be probably be worthy of a space on your living room wall. But, the best part of this project is the process - it is truly a means for self expression. There is something incredibly therapeutic about watching the art emerge as you splash the paint onto the canvas. Just be sure to do it outside with where the mess is ok, and wear clothes you don't mind being covered in paint!
Spooky ghosts made out of paper mache clay. You can make them whatever size you like - small individual ones, or one large one to hang on the wall. Truly one to have fun with whatever your age; suitable for the smallest kids to the tallest Halloween monsters!
If it's damp and wet outside, don't fear, you can make your own amazing autumn leaves by painting brown paper bags. We sponge painted with several colors of metallic tempura paint and added veins made out of glitter for a beautiful shining look. Older children will enjoy creating their own color designs, and leaf shapes but don't overlook this project for the preschoolers. Younger kids will have great success sponge painting - and once 4/5 can even attempt to cut out the leaves themselves. They'll just need some help creating the veins.
Creating your own fall tree can be super fun - and although this one looks time consuming it's really easy to put together. What's more, all the members of your family can take part making the leaves. This would be a great group project in a preschool or kindergarten classroom as you could create a class tree with leaves from each child. The leaves can be as small or large as you like - and so can the tree!
These bright and cheerful turkeys are a great way to send Thanksgiving Greetings to friends and families. As a bonus, they will also keep your kids busy for a bit as they create the body by threading circles of tissue paper.
These adorable pine cone owls are a fun autumn craft for kids of any age. You can combine this craft with a nature hike to find the pine cones, acorn cups and leaves used in the activity.
The is a fantastic Christmas project to do with toddlers and preschoolers. Egg cups are painted and stacked to make Christmas Trees which are then decorated with spangles and gems. The finished trees will take pride of place on any mantlepiece.
ADORABLE Foot and Hand Print project that makes a great Christmas Keepsake - or cute Christmas Cards for Family members. You could do this with baby hand and foot prints. And toddlers and preschoolers will have a blast watching the reindeer faces emerge from their prints.
If you have a child who loves to cut, then this is the perfect Christmas project. My son had a great time finding the "red bits" in old magazines, cutting them up and gluing them on his stocking. You could turn these into cute Christmas cards, or punch a hole in the corner and hang from the Christmas Tree. Either way, they are a great preschool project!
I was so excited by the results of this festive holiday project. It's simple to do, but engaging for kids of any age - and the results are so pretty. You can make the finished trees into pictures - or turn them into special, one of a kind greetings cards.
Younger children will be able to make and "light" this menorah all by themselves this Hanukkah! A fantastic project for preschool age children.
Made from just glue and tissue paper, these Christmas Trees will sparkle and glow when you place an LED tealight inside. They make wonderful centerpieces for a Christmas Table. (NOTE: Do not use a real flame under these trees, use battery operated LED tealights only)
These reindeer can not fail to bring a smile to your face. My kids were so excited to make them for our Christmas Mantlepiece. Both 6 and 4 year olds were able to complete the activity with a little help.
These are SO SIMPLE to make and yet they look fantastic. It's worth doing a few and keeping them on hand as they are really useful to make gift tags and birthday cards. Or combine several to make a collage or a spring wreath. Preschoolers will have fun doing this project and older kids (and adults) will enjoy creating more complex designs.
This project is seriously addictive! The process is extremely fun and interactive. And the results are amazing. In other words this is a great introduction to print making for kids - and one that even smaller kids can do and enjoy. First, you make a gelatin plate. This is quite straightforward and basically involves creating a slab of firm gelatin: a process that is fun for older kids to help with. then you have fun applying paint to the plate, and using everyday objects as brushes and stencils to ensure that when you place the paper over the top of the plate to make print, you get fantastic results. Note: don't be put off by the wordy instructions - the procedure is actually very quick and easy once you get the hang of it!
Reviews
✶✶✶✶✶ So pretty

The best bit of this activity was when the acorns were drying. They looked so pretty. Once dry my kids had fun playing fairies.

✶✶✶✶✶ Very messy, very fun

The boys had a great time painting their feet - and the results were so pretty.

✶✶✶✶✶ What Bubble Mix

So fun