Acorn Glue Cups (Treasure)
A great fall activity – turn simple acorn cups into delightful sparkling treasures – gems for your little pirate or princess or tiny tea cups for your fairy garden. These are easy enough for preschoolers to enjoy making – and are fascinating to watch drying. Simply color the insides of acorn cups and "varnish" with white school glue!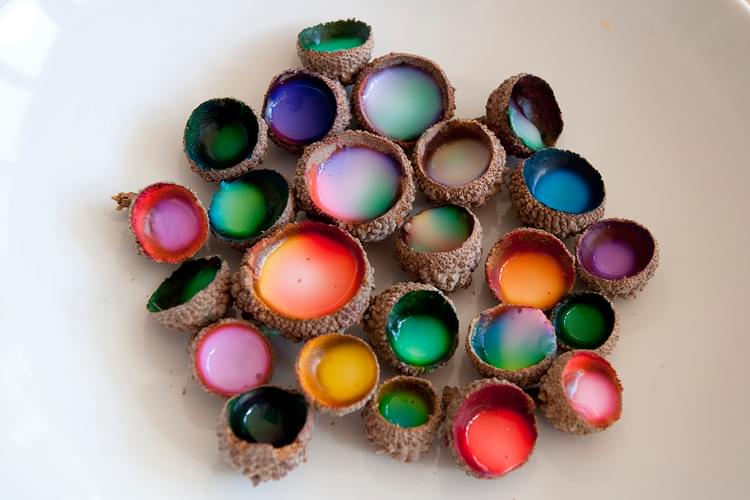 Project Info
Materials
Acorn Cups
Playdough or modelling clay
Washable Marker Pens
White School Glue (e.g. Elmers)
Instructions
Using washable markers, color the inside of the acorn cups
Push the acorn cups into the playdough so that they are supported in an upright position
Fill the acorn cups with the white glue
Allow the acorn cups to dry – this may take several days; but is beautiful to watch as the glue starts to dissolve the colors from the marker pens
Enjoy playing with your treasure!
Tips
Acorns are attractive homes for critters. If you want to use acorns for crafts then it is worth drying them to make sure they are insect free! Do this by spreading your acorns out on a cookie sheet lined with aluminum foil and baking at 175 F for about 2 hours, shaking the tray occasionally.
Reviews
✶✶✶✶✶ 1 review(s)
✶✶✶✶✶
So pretty
The best bit of this activity was when the acorns were drying. They looked so pretty. Once dry my kids had fun playing fairies.
Related Books
- our picks from Amazon for this project:
Related Projects