Mummy Pots
Your kids will love making these little mummy pots for storing Halloween Candy. They are so simple and yet so effective. Preschoolers and Kindergartners should manage these without too much trouble and a little assistance, and by First Grade the kids should be able to do this project all by themselves without any trouble.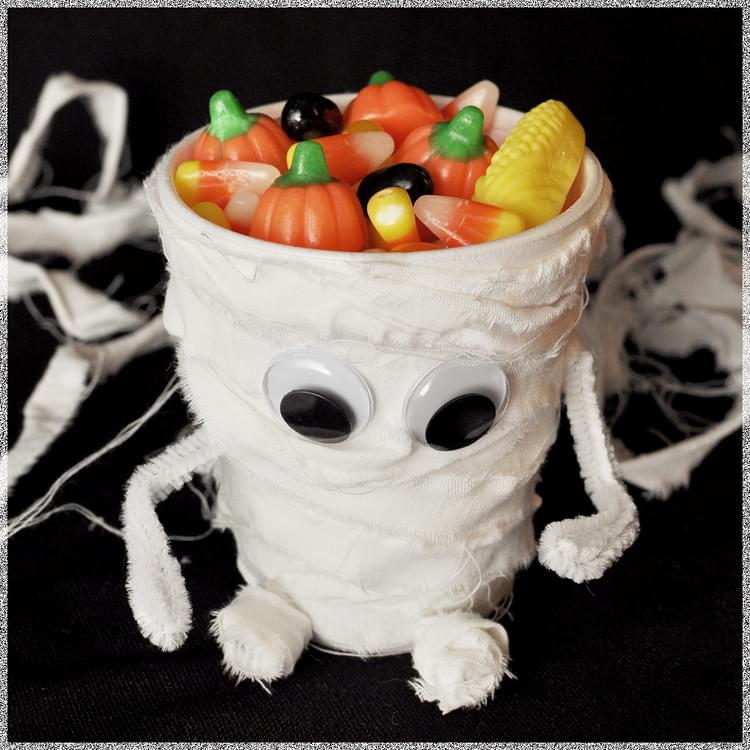 Project Info
| | |
| --- | --- |
| Difficulty | Slightly challenging |
| Duration | 15-30 minutes |
| Age | 3+ |
| Submitted by | |
| Share | |
Materials
Googly Eyes
Strips of white Muslin / Cheesecloth each about 1/4 inch wide
White Glue (e.g. Elmers)
White Pipe Cleaners
White Styrofoam Drinking Cups
Instructions
Take a pipe cleaner and cut in half. Take one of those halves, fold in half and twist the two halves together. Repeat with the other half of the pipe cleaner (so that you now have two separate twisted lengths of pipe cleaner, each 1/4 length of the original)
Poke the pointed end of one of your twisted pipe cleaners into the side of the cup to form an arm. Bend about 1/4" of the pipe cleaner to 90 degrees inside the cup to secure. Repeat to form a second arm
Now take another pipe cleaner and cut in half. Take one of the halves and cut in half again.
Fold both of the quarter lengths of pipe cleaner in half. These are the feet. As you did for the arms, poke these into the base of the cup and fold over the ends inside to secure.
Put a line of white glue around the rim of the cup about 1/4 inch below the top. Wrap a muslin strip around the rim on top the glue, and then start wrapping the cup in a haphazard fashion. When you reach the end of your strip, put a dab of glue on the cup and secure the end. Then put a new dab of glue, and start wrapping another strip. Continue in this way until the cup is covered to your satisfaction.
Wrap the feet with small muslin strips by following the same process
Glue Googly eyes onto your cup
Fill with Halloween treats.
Reviews
✶✶✶✶✶ Not yet reviewed
Related Projects