Butterfly Footprint
These butterflies are a beautiful way to turn a child's footprint into a work of art. They make beautiful gifts if you do them on high quality paper and frame them – or if you make them directly onto canvas boards. They also make wonderful gift cards! Or, just do them for fun – what child doesn't love painting their feet and stomping on paper!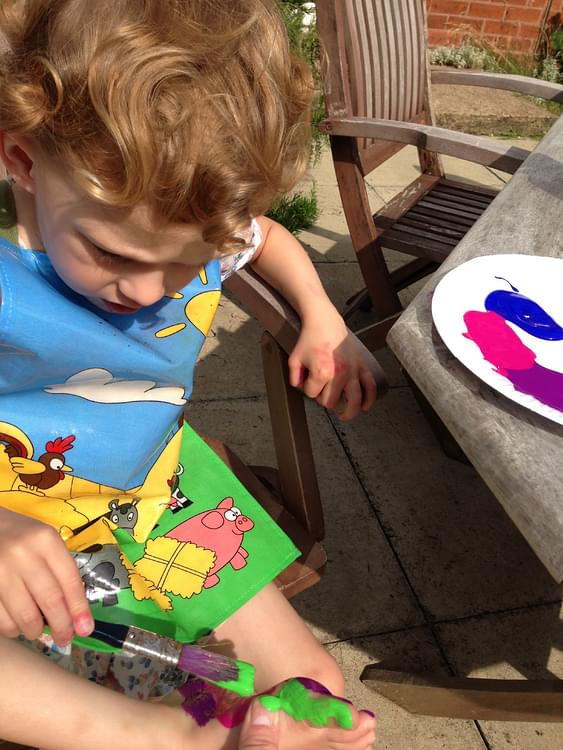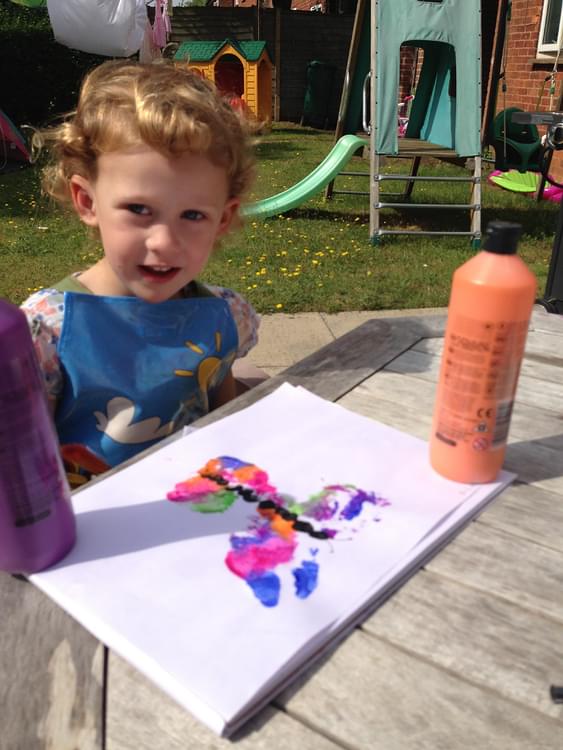 Project Info
| | |
| --- | --- |
| Difficulty | Easy |
| Duration | Under 15 minutes |
| Age | Any |
| Submitted by | |
| Share | |
Materials
Paint (Finger Paint, or other washable paint)
Paint Brushes
Paper or Canvas Board
Instructions
Paint your child's feet (or your own) using one or multiple colors
Place the child's right foot on the left side of the paper so that the little toe is approximately placed at the center of the page. Lift up carefully.
Now place the child's left foot on the right side of the page so that the little toe is placed in the middle of the page next to the little toe print you have just made – i.e. you want the feet to be the wrong way round! Lift up the foot carefully
Using a contrasting color (black works well here) make finger prints along the center of your butterfly print – to form the butterfly body. Older children can do this themselves
Using a fine brush, paint antenna onto the butterfly
Tips
You will likely be able to make multiple prints without having to repaint the foot, although you will have to work quite quickly as the paint dries surprisingly fast.
There's some beautiful examples of this project to be found online. Two of my favorites are: colormehappyworkshop.blogspot.com and and myeverydayexceptional.blogspot.com
Definitely one to do outside!
You might want to have some baby wipes or paper towel on hand to clean up those little feet!
Kids aged 4 and above will enjoy painting their own feet – but might need help aligning them on the paper.
Definitely needed wet wipes on hand!
you can fold the paper or mount them on folded strips of card to make them look like they are flying :-)
Reviews
✶✶✶✶✶ 3 review(s)
✶✶✶✶✶
Very messy, very fun
The boys had a great time painting their feet - and the results were so pretty.
✶✶✶✶✶
Easy fun
My 4 year old absolutely loved this activity. She was able to do it all herself following my instructions which made her feel like a very 'big girl' :-) easy activity with all equipment required readily available in our art box.
✶✶✶✶✶
fabulous
My 4 year old loved this project. We made loads of them and so decided to make a picture - see my project 'wall picture 3D butterflies'
Related Projects