Apple Gift
Wrap a small jar of honey in red tissue paper, secure with twine, and add green leaves as gift tags and you have a wonderful gift. This is especially super for Teacher Appreciation and for the holiday of Rosh HaShanah. During this Jewish New Year holiday it is traditional to eat apple slices dipped in honey as a symbol of the desire for a sweet new year. It is traditional to give apples to teachers as gifts (a tradition dating back to the time when the community was often responsible for housing and feeding the teacher). You could replace the Honey with preserves.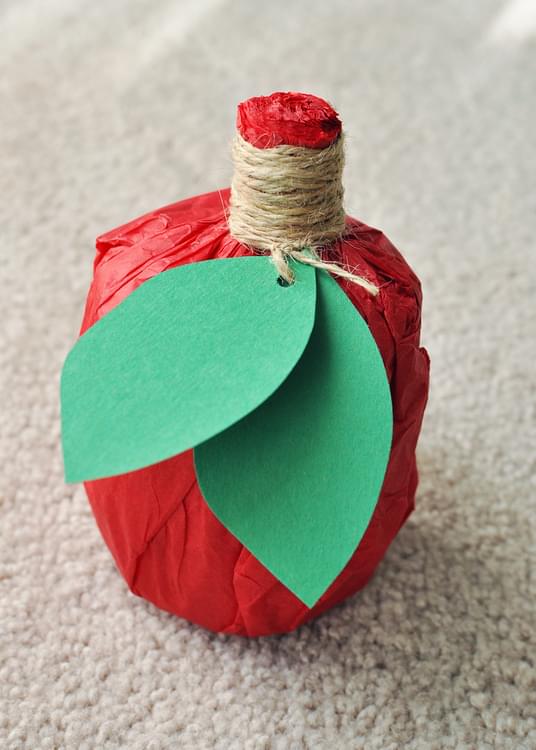 Project Info
| | |
| --- | --- |
| Difficulty | Easy |
| Duration | Under 15 minutes |
| Age | 3+ |
| Submitted by | |
| Share | |
Materials
Green Paper
Red Tissue Paper - 2 sheets
Small Jar of Preserves
Twine
Instructions
Tear both sheets of tissue paper in half and place on top of each other.
Place the jar of honey in the middle
Gather all the edges of the tissue paper up to the top of the jar and twist tightly
Take a long piece of twine and tie a knot at the base of the twisted tissue paper. You should leave a tail of 3 inches of twine on one side of the knot and about 36 inches the other side.
Whilst keeping hold of the top of the twist to keep it in place, wind the long end twine around the twisted tissue paper until you have a twine "stem" extending about an inch from the top of the jar. Now wind it back down to the base of the stem, and tie another knot.
Cut the ends of the twine leaving about 2 inches either side of the knot.
Cut 2 apple leaf shapes out of the green paper, and punch a hole in the end of each one.
Secure the leaves to the apple at the base of the stem using the ends of the knotted twine.
Reviews
✶✶✶✶✶ Not yet reviewed
Related Projects