Coffee Filter Butterfly
Transform a coffee filter into a butterfly with this simple craft that is ideal for toddlers or preschoolers - but which can be enjoyed by kindergartners too. The best bit - spreading the colors together: the little ones will have so much fun watching the paints squish and mingle (and making a mess). And the end product is fun to play with too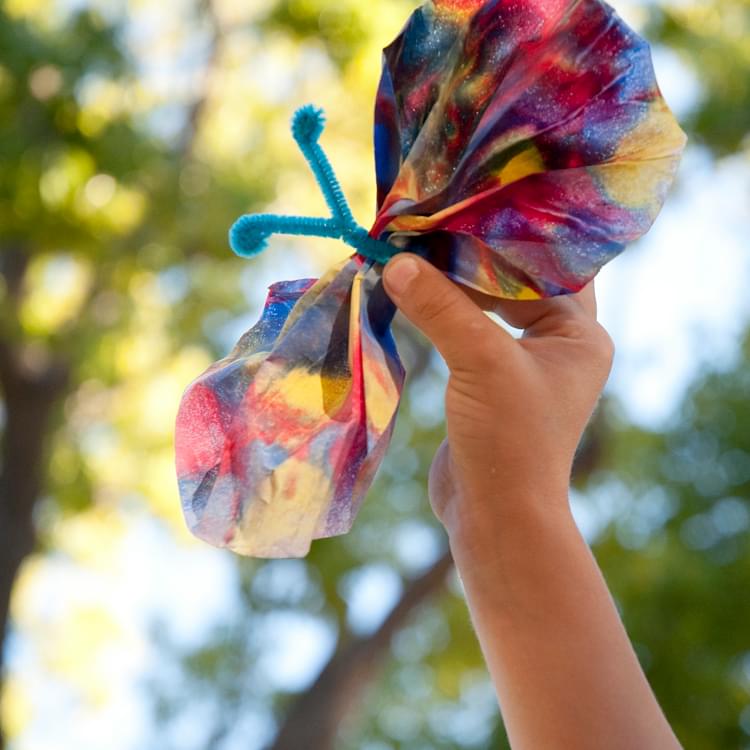 Project Info
| | |
| --- | --- |
| Difficulty | Easy |
| Duration | Under 15 minutes |
| Age | Any |
| Submitted by | |
| Share | |
Materials
Coffee Filter
Half a Pipe Cleaner
Paint
Instructions
Fold the coffee filter in half
Place drops of paint all over half of the coffee filter
Fold the filter in half and rub over the folded surface to spread and mix the drops of paint below
Open the filter and leave to dry
Fold the butterfly in the style of a fan: fold half an inch of the edge of the butterfly, turn the butterfly over, fold the same edge again, turn over and repeat until you reach the other side.
Holding the center of the butterfly, fold the pipe cleaner over the center of the butterfly, and twist a cope of times to secure. Pull apart the two ends of the pope cleaner, and roll the ends slightly to form the ends of the attenae
Carefully spread the wings of the butterfly.
Tips
Smaller children will probably need help attaching the pipe cleaner to the butterfly.
Instead of paint, you can also use marker pens to draw a pattern on to the butterfly. If you hold a marker pen on the surface of a coffee filter, the ink will spread into an large dot. If you fold the filter in half before applying the pen, then the color form the pen should soak through both sides of the filter.
Reviews
✶✶✶✶✶ Not yet reviewed
Related Projects