Glowing Christmas Trees
Made from just glue and tissue paper, these Christmas Trees will sparkle and glow when you place an LED tealight inside. They make wonderful centerpieces for a Christmas Table. (NOTE: Do not use a real flame under these trees, use battery operated LED tealights only)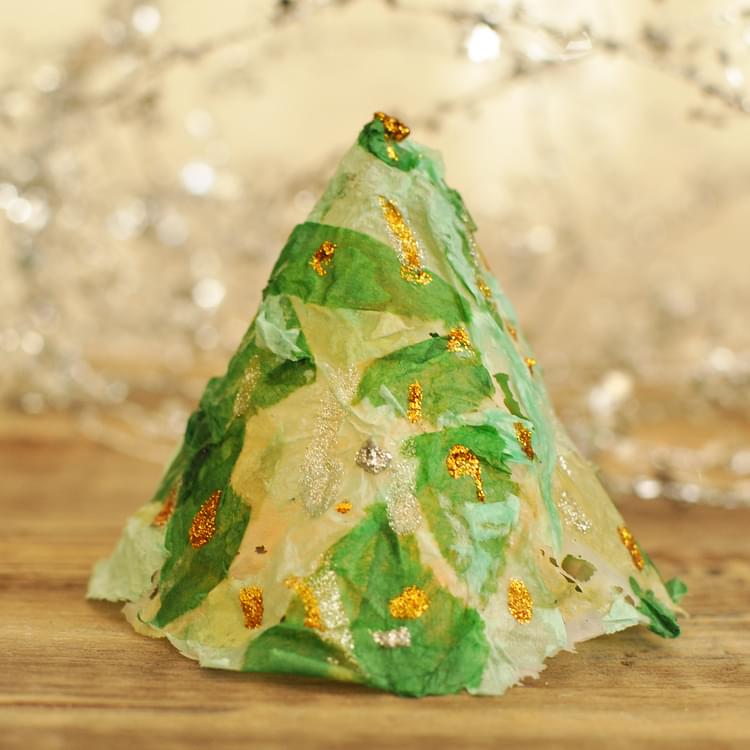 Project Info
| | |
| --- | --- |
| Difficulty | Easy |
| Duration | 15-30 minutes |
| Age | 3+ |
| Submitted by | |
| Share | |
Materials
Card
Glitter Glue
Greaseproof Paper
Green Tissue Paper (Various Shades)
LED Candle
White Glue
Instructions
PREPARATION: Using a small plate, draw a circle on the card. Cut out. Repeat making a second circle on greaseproof paper.
Fold each circle in quarters to find the centre of the circle - mark this. Unfold.
Make a cut from the edge of the card circle to the centre point.
Make a cone from the card by overlapping the cut edges of the circle, keep increasing the overlap until the cone is the size you desire. Staple to secure.
Now repeat with the greaseproof paper, making sure that the cone is the same size as the card cone.
Place the greaseproof paper cone on top of the card cone and staple them together.
Tear up the tissue paper into small pieces.
KIDS: Cover the cone with a thick layer of white glue.
Place the bits of tissue paper all over the glue covered cone - until it is entirely covered.
Now brush another layer of glue over the tissue paper.
Leave to dry thoroughly. This will take at least 24 hours, possibly longer.
ADULTS: Very carefully separate the dried glue / tissue cone from the greaseproof paper.
KIDS: Decorate the tree with dots of glitter glue.
Place a tealight inside the tree to make it glow.
Tips
WARNING: DO NOT USE A REAL CANDLE INSIDE THESE TREES as you will start a fire.
Reviews
✶✶✶✶✶ Not yet reviewed
Related Projects