Watermelon Popsicles
A fun, refreshing and super healthy treat for the kids - watermelon popsicles! These are straightforward to make with a little patience and are guaranteed to be popular with the whole family. Make them for National Watermelon Day - celebrated on August 3rd each year.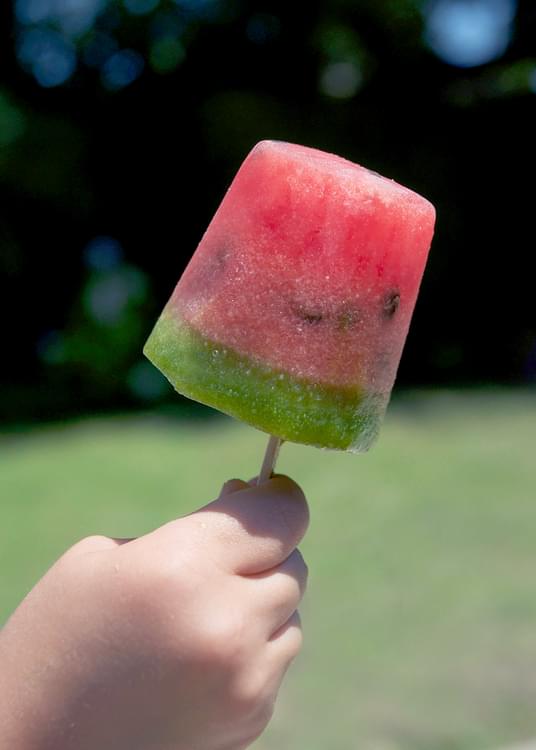 Project Info
| | |
| --- | --- |
| Difficulty | Slightly challenging |
| Duration | 1 hour |
| Age | 3+ |
| Submitted by | |
| Share | |
Materials
1 Pear
3 cups of cubed Watermelon
A few leaves of baby spinach
Blender
Mini Chocolate Chips
Popsicle Sticks (8)
Small paper cups (8)
Instructions
Remove any pips from your watermelon
Put the watermelon into a blender, and pulse until the watermelon is liquid
Pour the watermelon mixture into the paper cups leaving about half an inch at the top.
Place the cups in the freezer for about 40 minutes
The watermelon mix should have started to freeze and will now be slushy. Push about 10-12 mini chocolate chips into the mixture trying to distribute them evenly - i.e. push some deep and others shallow - some around the edges, and others in the middle
Now push a popsicle stick into the centre of each cup. The mix should be firm enough to hold the stick upright.
Return to the freezer for an hour or until frozen solid.
Place the pear and spinach leaves in the blender along with a 1/4 cup water. Blend until liquid.
Carefully pour the green mix onto the top of the popsicles and return to the freezer for another hour or until frozen solid.
Once frozen, you are ready to enjoy. Simply lower the popsicle into warm water for a few seconds (do not submerge!) to loosen, and then pull gently to remove
Tips
The spinach leaves will make the mix green - but their taste should be masked by the flavor and sweetness of the pear - a great way to get even the most reluctant eater to consume some greens!
Reviews
✶✶✶✶✶ Not yet reviewed
Related Projects