Flower Pencil Holders
These flower pencil holders made of air dry clay will brighten up the desk of any little girl. They also make great gifts for mothers day, for teacher appreciation or for Grandma's Birthday.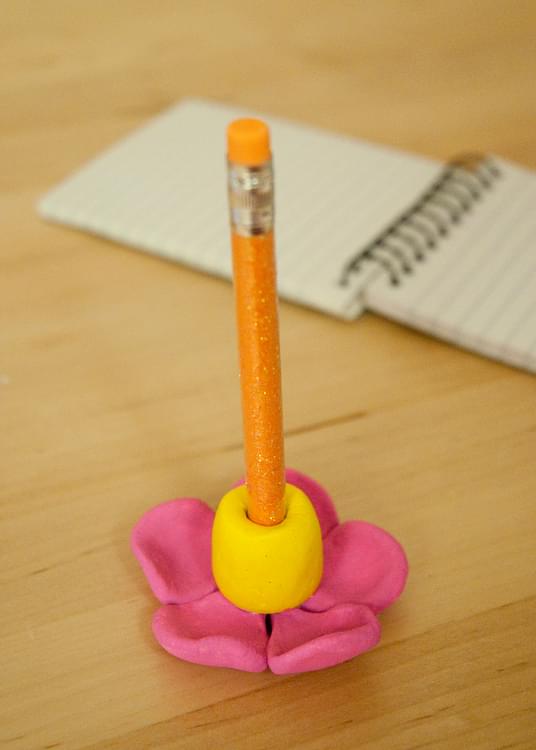 Project Info
| | |
| --- | --- |
| Difficulty | Slightly challenging |
| Duration | 1 hour |
| Age | 5+ |
| Submitted by | |
| Share | |
Materials
Acrylic Paint
Air Dry Clay
Paintbrushes
Parchment Paper
Pencil
Instructions
Make a ball out of the air dry clay. Shape the ball by squishing it slightly to form the center of the flower. This needs to be at least 0.75" wide and 0.75" tall.
Push your pencil into the top of the flower center that you have just created until it is not quite pushed all the way through. Set aside.
Now form the petals of your flower out of the clay. (You can form petals however you like. If you are unsure how, the simplest way to do this is to make a small ball out of clay and then squeeze it gently between your fingers to flatten it. Pinch one end to create a tear shape).
Arrange the petals into a flower shape on your parchment paper.
Using your paintbrush, gently brush water over the center of the petals. This is to make sure that they will stick to the centre of the flower.
Firmly push your flower center onto the top of the petals. Make sure that each petal is stuck to the center and shape them (for instance you may wish to curl the edges up a little).
Leave the flower to dry. When it is dry the clay will turn white. You want to make sure that it is completely dry before you paint it - this will take between 24-48 hours depending on the temperature and humidity of your room .
Paint your flower as you wish
Tips
You could sprinkle glitter over the paint whilst it is still wet to add sparkle!
You could use salt dough instead for this project.
Don't forget to wet any edges that you wish to join otherwise your monster will fall apart when dry.
If the clay cracks whilst you are modeling it, you can smooth the cracks by using your paintbrush and a little water. Simply wet the paintbrush and gently brush back and forth over the cracks.
You can use a toothpick to draw patterns (e.g. veins) onto the flower.
Reviews
✶✶✶✶✶ Not yet reviewed
Related Projects