Watercolor Resist Christmas Trees
Very simple, very effective - create Christmas tree snow scene pictures by painting rubber cement onto watercolor paper in the shape of a Christmas Tree and painting.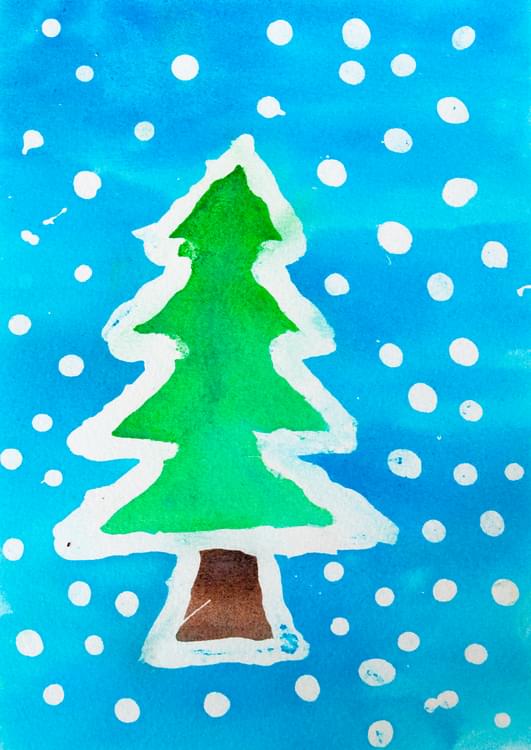 Project Info
| | |
| --- | --- |
| Difficulty | Easy |
| Duration | 1 hour |
| Age | 5+ |
| Submitted by | |
| Share | |
Materials
Rubber Cement
Watercolor Paint
Watercolor Paper
Instructions
Paint the outline of a Christmas Tree onto watercolor paper using Rubber Cement. Make sure that there are no gaps in the lines.
Add dots of rubber cement in the background around the tree to make a snow storm
Once the rubber cement is dry (after several hours), paint the tree and the background with watercolor paints
When the paint is dry, use your finger to remove the rubber cement by rubbing gently
Tips
WARNING: ADULT SUPERVISION REQUIRED: Never allow children to use rubber cement without adult supervision. The fumes from the liquid Rubber Cement are toxic making this an inappropriate project for very young children. For Kindergartners and above, be sure to use in a very well ventilated area and only for short period of times. The product is flammable so do not use near open flames. If the glue accidentally comes in contact with your eyes, flush with water for at least 15 minutes. If you suspect the chemical has been swallowed, call Poison Control immediately. Do not attempt to induce vomiting without first seeking medical advice.
You will need mineral spirits to clean rubber cement from paintbrushes. Alternatively, use old paintbrushes and dispose of them once the project is complete.
If you spill any rubber cement, do not try to remove with water. Simply wait for it to dry and then rub off with your finger.
Reviews
✶✶✶✶✶ Not yet reviewed
Related Projects