Hanukkah Menorah
Younger children will be able to make and "light" this menorah all by themselves this Hanukkah! A fantastic project for preschool age children.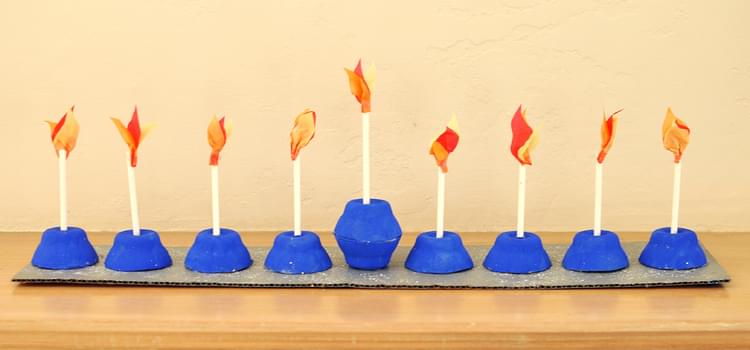 Project Info
| | |
| --- | --- |
| Difficulty | Easy |
| Duration | 15-30 minutes |
| Age | Any |
| Submitted by | |
| Share | |
Materials
Blue and Gray Paint
Card (from an old cardboard box)
Egg Box (for 1 dozen eggs)
Popsicle Sticks
Red, Orange and Yellow Tissue Paper
Silver Glitter
Instructions
Cut out 10 egg cups from the egg box.
Paint the egg cups blue
Cut a rectangle of card long enough that nine of the egg cups can be placed side by side along it, and about the width of 2 egg cups.
Paint the card gray and sprinkle with glitter.
Place one of the egg cups on the table. Glue a second egg cup upside down on top of this one. This will form the central candlestick of the menorah. Glue it to the center of the card.
Now glue the other egg cups to the card (upside down) placing 4 on each side of the centre.
Poke a popsicle stick into each egg cup. You may find it helpful to use a skewer to make the initial hole.
Cut one rectangle 10" x 1" out of red tissue paper. Repeat with orange and yellow tissue paper.
Place a line of glue along the long edge of the red tissue paper. Place the orange rectangle on top. Place another line of glue on top of the orange tissue paper and place the yellow tissue paper on top. All three rectangles of tissue paper should now be joined along one edge.
When the glue is dry, cut out 9 flame shapes from the tissue paper, with the base of the flame being where the dried glue is.
Scrunch the bottom of each tissue flame and glue one to the top of each popsicle stick on your menorah.
Reviews
✶✶✶✶✶ Not yet reviewed