Glow Lanterns
This project releases the magic of a glow stick into a lantern! Definitely one for older kids and requires adult supervision - but with caution this is a fascinating science project or which can simply just be done for fun! Ideal for camping trips or late summer nights in the yard!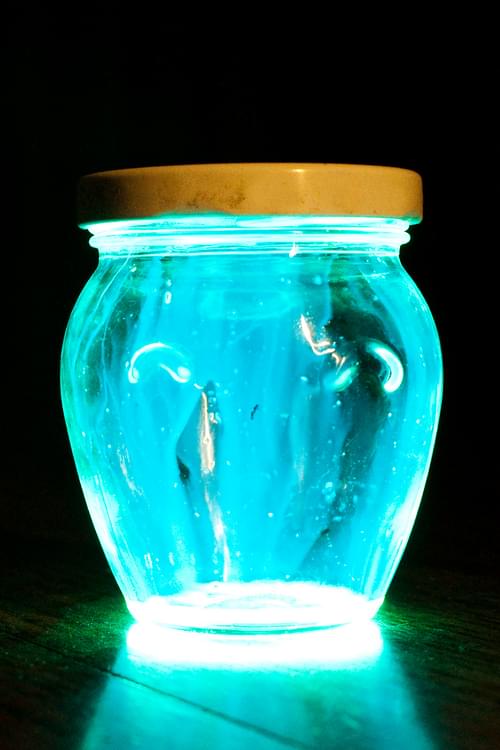 Project Info
| | |
| --- | --- |
| Difficulty | Slightly challenging |
| Duration | Under 15 minutes |
| Age | 5+ |
| Submitted by | |
| Share | |
Materials
Glass Jar
Glow Sticks
Plastic Gloves
Instructions
Carefully cut open the glow stick, and slowly pour the contents into the glass jar. Be careful, the fluid is contained inside a narrow glass tube which you must break to release the fluid. As you empty the glow stick, the glass will also come out of the plastic tube. You will need to remove the glass from the jar carefully (and wearing gloves).
Seal the jar and shake. The chemicals will activate and your lantern will glow.
Tips
Be careful, the glass inside the glow stick breaks easily and could cause injury. Don't let children handle these glass sticks, and dispose of them carefully.
Worried about safety? This is from glowstickfactory.com. "The liquid light source is non-toxic, no heat or harmful radiation is produced. Contact with the eyes or ingesting of the fluid should be avoided, as irritation will result...... The activated liquid even though non-toxic may contain tiny shards of glass which may cause injury..... The liquid can permanently stain clothing or furniture and can cause skin or eye irritation. More information is here: www.ncpoisoncenter.org
We did not initially have success with this project. The project will not work if you cut off the very end of the stick only. We had more success when we learned the science! The glow stick contains two reactive ingredients one is a fluid (hydrogen peroxide) that is in a narrow glass tube inside the larger plastic tube which also contains a second fluid (a derivate of phenyl oxalate ester) and a fluorescent dye. The glow is caused when you break the glass tube (usually by bending the glow stick) and the two fluids mix causing a chemical reaction that activates the dye. So - when making the glow lantern, you must ensure that the glass tube has been broken so that both fluids flow into the lantern We found that if we cut the end off the stick low enough down to break the glass, and then placed the stick in the jar and cut off the other end, the fluids flowed more easily. For more information on how glow sticks work, see wikipedia: en.wikipedia.org and the glowstickfactory FAQ: www.glowstickfactory.com
Reviews
✶✶✶✶✶ Not yet reviewed
Related Projects