Thanksgiving Turkey Greetings Card
These bright and cheerful turkeys are a great way to send Thanksgiving Greetings to friends and families. As a bonus, they will also keep your kids busy for a bit as they create the body by threading circles of tissue paper.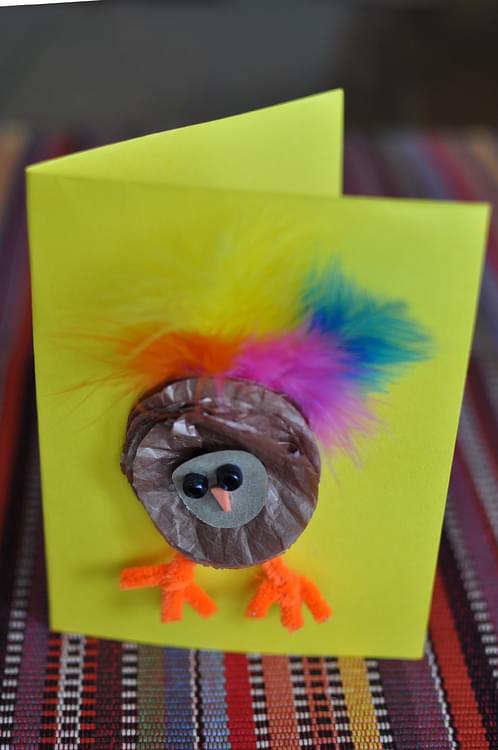 Project Info
| | |
| --- | --- |
| Difficulty | Slightly challenging |
| Duration | Under 15 minutes |
| Age | 5+ |
| Submitted by | |
| Share | |
Materials
Black pony beads
Blank Greetings Card made from Card in color of choice
Blunt embroidery needle
Brown Card or Paper (e.g. from a paper bag)
Brown Thread
Brown Tissue Paper
Colored craft feathers
Orange Craft Foam
Orange Pipe Cleaner
Instructions
Adult Preparation: First make the body. Cut several 2" circles from brown tissue paper (by hand or using a circle punch). Crunch up the tissue paper circles and then flatten out again (to get a crumpled effect)
Adult Preparation: Thread a needle with a length of brown thread.
Adult Preparation: Thread the needle through a pony bead, and tie the end of the thread around the bead.
Thread the circles of tissue paper, pulling each circle down to the bead at the bottom. When you have passed 4-5 tissue circles along the thread, pass another pony bead onto the needle, and pull down on top of the tissue circles.
Tie the end of the thread to the final pony bead.
Cut out a smaller circle from the brown paper / card. Stick this on top of the topmost pony bead, to create a head. Now glue 2 black pony bead eyes, and an orange craft foam triangle beak onto the head.
Glue colored feathers to the opposite side of the tissue paper pile to create tail feathers.
Cut and shape the pipe cleaner into feet and glue to the underside of the turkey.
Finally, glue the turkey to your greetings card.
Reviews
✶✶✶✶✶ Not yet reviewed
Related Projects