Cheerful Fall Tree
Creating your own fall tree can be super fun - and although this one looks time consuming it's really easy to put together. What's more, all the members of your family can take part making the leaves. This would be a great group project in a preschool or kindergarten classroom as you could create a class tree with leaves from each child. The leaves can be as small or large as you like - and so can the tree!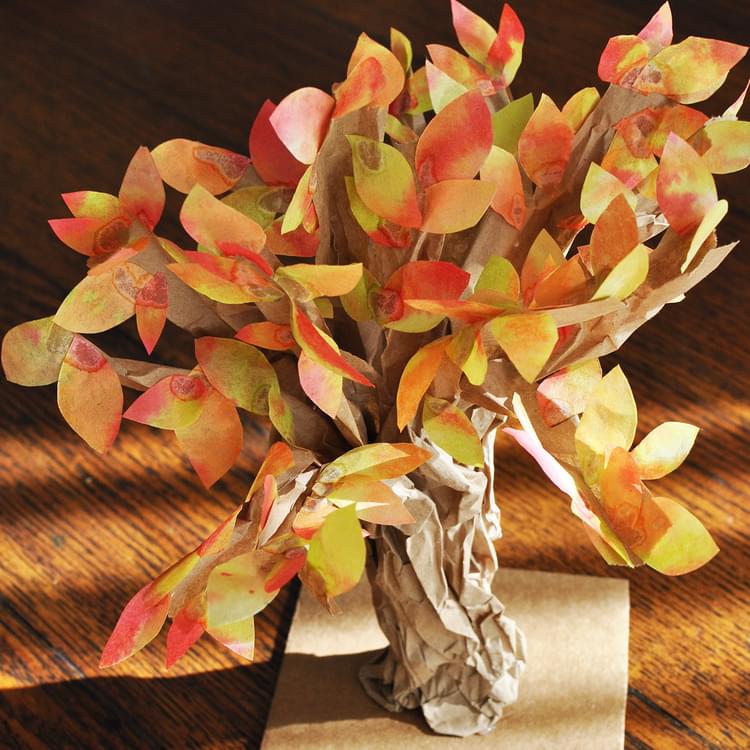 Project Info
| | |
| --- | --- |
| Difficulty | Slightly challenging |
| Duration | 15-30 minutes |
| Age | 3+ |
| Submitted by | |
| Share | |
Materials
A square of Card (Optional)
Brown Paper Bag (Or brown packing paper)
Coffee Filters
Watercolor Paint
Instructions
First create the leaves. Take a coffee filter and spray lightly with water. Then paint with watercolor paints in fall colors. (Alternatively, you can use liquid watercolors diluted with water and drop onto the coffee filters using pipettes).
Once the coffee filter has dried, cut out the leaves. You can speed up this process dramatically by folding the coffee filter multiple times and cutting through the folds - this creating multiple leaves at once.
To create the tree trunk take your paper bag and using scissors make cuts into the top of the bag. Each cut should go from the edge of the bag to approximately a third of the way down. And the cuts should be around 3/4 inch apart. The size of the bag will affect what size cut looks best, so you may need to experiment.
Twist the bottom 2/3 of the bag to create a tree trunk. To allow your tree to stand, flatten the bottom of the bag and glue to a square of card. Using hot glue is the quickest way to do this - but any glue will work.
Now twist each of the cut ends to create branches.
Finally, apply glue to the branches and stick on the leaves. You can do this either by painting the branches all over with glue, or by putting spots of glue where you wish to apply the leaves.
Reviews
✶✶✶✶✶ Not yet reviewed
Related Projects