Paper Plate Dinosaur
This craft from the brilliant kidscraftweekly.com turns a paper plate into a moving Brontosaurus!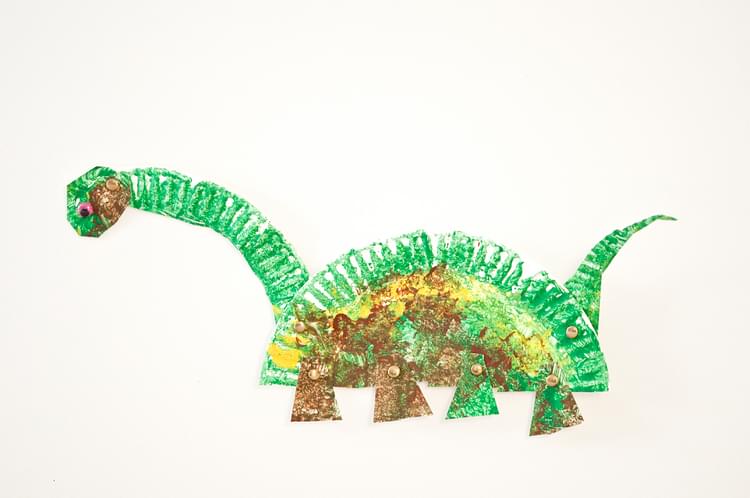 Project Info
| | |
| --- | --- |
| Difficulty | Easy |
| Duration | 15-30 minutes |
| Age | 3+ |
| Submitted by | |
| Share | |
Materials
Brass Paper Fasteners
Googly Eyes (Optional)
Paint (Poster or Acrylic)
Paper Plate
Sponge
Instructions
Sponge paint a paper plate, and leave to dry
Cut the plate in half
From one half only, cut off the curved edge of the plate. Cut that piece in half. Taper the end of one half to make a tail (the other half will be the neck)
From the remaining cut half, cut out 4 leg shapes and an oval for the dinosaur head.
Punch a hole at the top of each dinosaur leg, and 4 holes along the cut edge of the remaining half of the paper plate. Using split pins, attach the legs to the body.
Add the neck, head and tail to the dinosaur in the same way.
Add a googly eye to the dinosaur's head
Tips
Thumbnail image: Plate_Dinosaur_02.psd
The originator of this recipe kidscraftweekly.com has an excellent pdf on her website that describes this craft in detail: kidscraftweekly.com
Alternatives to sponge painting for this project would be bubble wrap painting, finger painting or simply painting with a brush.
Reviews
✶✶✶✶✶ Not yet reviewed
Related Projects