Monster Pencil Holders
These cute little monsters will keep your pencils in reach. Let your imaginations run wild to create weird and wonderful monsters of any shape and color out of air dry clay. A great project for boys to have on hand for a rainy day, as a back to school project or just as fun.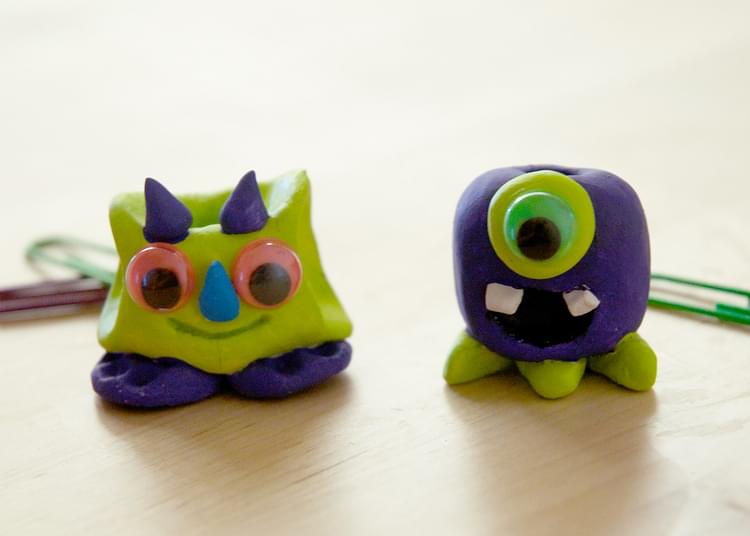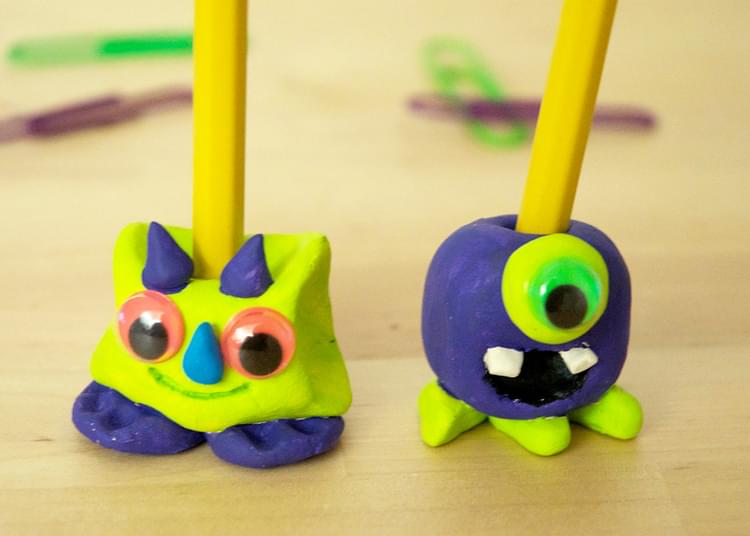 Project Info
| | |
| --- | --- |
| Difficulty | Slightly challenging |
| Duration | 1 hour |
| Age | 5+ |
| Submitted by | |
| Share | |
Materials
Acrylic Paint
Air Dry Clay
Glue
Googly Eyes (Optional)
Paintbrushes
Parchment Paper
Pencil
Instructions
Take a chunk of air dry clay and form into the body of your monster.
Make the feet of your monster.
Place the monsters feet on a square of parchment paper. Using a paintbrush, brush water over the tops of the feet. Now place the body on top of the feet, pressing down firmly and making sure that the monster is stable. The water will help the pieces to stick together.
Take the pencil and push into the top of the monster's head - push down until it has not quite gone all the way through.
If desired make appendages for the monster - teeth, horns, hands etc and join them to the monster using water and your paintbrush. You can use a toothpick to draw shapes on the monster too - for instance to draw a mouthh.
Leave the monster to dry. When it is dry the clay will turn white. You want to make sure that it is completely dry before you paint it - this will take between 24-48 hours depending on the temperature and humidity of your room .
Paint your monster as you wish and glue on googly eyes if you desire.
Your monster is now ready to hand on to your pencil.
Tips
You could use salt dough instead for this project.
Don't forget to wet any edges that you wish to join otherwise your monster will fall apart when dry.
If the clay cracks whilst you are modeling it, you can smooth the cracks by using your paintbrush and a little water. Simply wet the paintbrush and gently brush back and forth over the cracks.
Reviews
✶✶✶✶✶ Not yet reviewed
Related Projects