Profile:
Broogly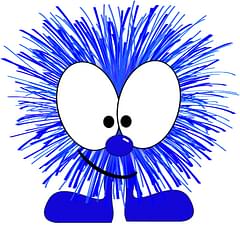 | | |
| --- | --- |
| About: | Small, blue, fuzzy and full of fun. I love doing projects of all kinds! |
| Website: | www.broogly.com |
| Social: | |
| Location: | Broogleville |
Projects
Who doesn't love bubbles - and giant bubbles are sure to bring smiles to everyone's faces. This makes a fantastic activity for a kids Birthday party.
This colorful dragon puppet by jellyfishjelly.com can be made from a few paper cups and tissue paper. A fantastic project for Chinese New Year
Is it a liquid, is it a solid, or is it just fun? Ooze will run through your fingers, but if you roll it between your hands it will form a ball. Hours of fun are to be had exploring this slimy concoction.
Inexpensive Mini Paint Rollers can be used to create some really eye catching paintings - and even the smallest kids will have a blast doing this easy craft project.
Painters Tape and a sponge are used to create this very cool looking version of the US flag. Great for 4th July Celebrations
Stretch it, bang it, roll it, bounce it - Silly Putty will keep you amused however you play with it. Make your own batch using the recipe given here.
Melted crayons provide particularly vibrant colors to images. In this activity melted blue and green crayons are used to create a picture of planet earth. This makes a great earth day project - as you can talk about caring for the earths resources by recycling. In this case using old crayon stubs to create art!
These incredible salt-ice sculptures combine science, art and a big dose of fun! Simply take a large block of ice, salt and watered down paint – and combine! The salt and paint make the ice melt with interesting caves and crevasses which act as tunnels and lakes for the paint. The effect is stunning.
The birds in your yard will have fun feasting on these easy to make bird feeders made from bagels and seeds....
These inkblot butterflies are intriguing for kids to make - simple dots of paint transform into beautiful symmetrical butterflies.
This is an activity for the smallest artists - and a particularly great activity for getting boys excited!
An autumn favorite - make leaves magically appear on paper!
This activity created by dltk-holidays.com turns a paper plate and egg boxes into a cute dragon! You could easily adapt this to be a dinosaur instead.
Painting on foil is a great sensory activity for young children. They will enjoy the feel of the foil in their hands, and the shine of the painting.
This project is one of Broogly's favorite - a great hand print activity for fall laden with autumn colors. But what makes it extra special is that kids don't just get to paint their hand - they get to paint their entire arm, making this a super fun project for toddlers and preschoolers!
This is one of my favorite painting activities. Sprinkle salt over wet watercolors and watch interesting and beautiful textures and patterns appear. This is truly an activity for all ages - easy enough for preschoolers - but also plenty of potential for older artists too.
Drawing with chalk on black construction paper produces wonderfully vibrant pictures. This is a great activity for all ages.
Take a coffee filter, make dots using washable markers, add water and watch as the ink travels and merges and makes pretty patterns.
SO MUCH FUN! Grated crayons melted on wax paper make the best sun-catchers. Cut these into hearts to create gorgeous valentines decorations (or gifts)
Potato prints are a classic kids project. The materials are cheap, the results are fantastic - what's not to love! At it's most simple you can just cut potatoes in half and use them as circular stamps. You can increase the fun by creating fun shapes as described below. The potatoes in the paint are wonderfully slippery making this a great sensory project too!
Come Easter we are always looking for new and interesting ways to decorate our Easter eggs. This last Easter I came across this clever technique by "Housing a Forest" for dying eggs using sharpies and rubbing alcohol. They have some beautiful examples on their website.
Little dinosaur lovers and wannabe geologists will just LOVE creating these dinosaur fossils. The project is so easy that even older preschoolers can do it with a little help. A great project for a dinosaur theme in the classroom, to do with a small group at a dinosaur party, or just because!
The ultimate little dinosaur lovers activity - dinosaur egg hunts - with "real" hatching dinosaurs. Little plastic dinosaurs can be inexpensively purchased from party supply stores or online, making this not only an easy project - but a frugal one as well. Hide your eggs in a sand box, in a dinosaur nest made from shredded paper in a kiddie pool, or around the house or garden for the ultimate prehistoric egg hunt
These Dino / Monster feet are sure to provide plenty of amusement. They are such a simple idea - foam sheets cut into dinosaur feet shapes that can be slipped over the child's foot. Decorate using sharpies, adhesive foam shapes, glue, glitter, buttons, feathers.... A fantastic project for a preschool class, a dinosaur party or for pretend play on a rainy day.
Little Kids will get a real kick out of this project - using a halved apple to make apple prints - along with leaf print leaves. It is a great craft project to welcome fall, to fill a letter A theme or for Back to School Activities. Just make sure you have extra apples so that you have some to munch on as well!
It's always fun doing apple projects, but particularly so in the fall. Kids can create their own apple laden trees in this project.
These standing Apple Trees made from a paper bowl and a toilet roll are a bright and cheerful fall project. Apples are a great preschool theme - they compliment units about Letter A, Apples, and Back to School!
These skeletons have tons of character and you'll have great fun figuring out how to pose those bones! A great Halloween craft, and also a great way to explore the structure of the human body, this activity is suitable for children who are a little older (age 6/7 and above) as it is a little fiddly.
Wooooo. These Ghosts are so much fun to make for Halloween. They make a great Halloween craft for elementary school age children. And they also make wonderful decorations for a Halloween party or event.
These Long Legged Spiders are so straightforward that even preschoolers won't have any trouble making them with a bit of help. Elementary age children will have fun customizing them with different colored legs and if desired by adding designs to the abdomen. They will enjoy hanging them around the house or classroom as Halloween decor. .
There's nothing like gathering round a nice roaring fire, whether that be at the end of a day's camping or as part of Bonfire Night Celebrations (in the UK) on the 5th November. This cute fire picture allows you to safely bring some of the fun inside.
These incredibly simple paintings in the style of Dutch Painter Piet Mondrian are a great way to get kids involved in learning about abstract art and the beauty of simple geometric images. The creation of the series of squares and rectangles is surprisingly satisfying and the creative process very rewarding. This project is ideal for elementary age kids and even older preschoolers can easily have a go. Older children may prefer to create their black outlines using rulers and black pen. That way the width of the lines can be varied.
Reviews
No reviews yet.