Paper Plate Dragon (or Dinosaur)
This activity created by dltk-holidays.com turns a paper plate and egg boxes into a cute dragon! You could easily adapt this to be a dinosaur instead.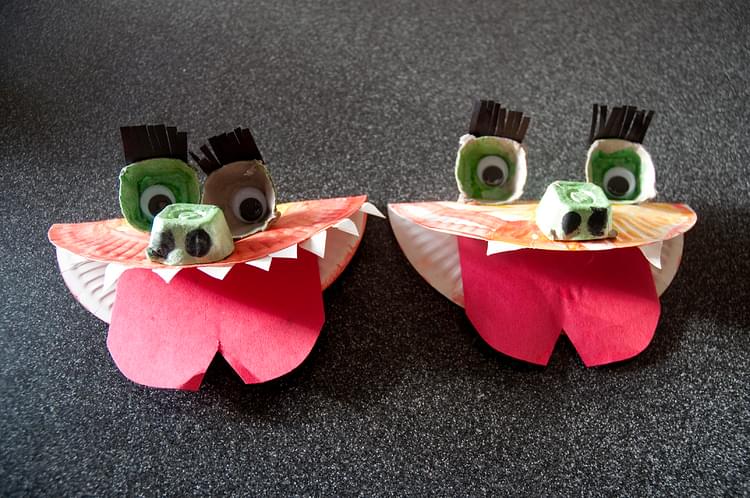 Project Info
| | |
| --- | --- |
| Difficulty | Slightly challenging |
| Duration | 1 hour |
| Age | 5+ |
| Submitted by | |
| Share | |
Materials
Black Marker
Black Paper (For Eyelashes)
Egg Carton
Googly Eyes
Paint (Tempura or Poster)
Paper Plate
Red Paper (For Tongue)
White Paper (For Teeth)
Instructions
Paint your paper plate - gold and red work well for a dragon. Set aside to dry
Cut three egg cups out from the egg carton and paint green. Set aside to dry.
Place a paper plate on a sheet of white paper and trace round half of the edge of the plate. Using a pencil draw teeth shapes along the edge of the line. Now cut out the teeth ensuring that you also cut a border below the teeth that can be used to attach them to the paper plate.
Place an egg cup on a back piece of paper, and trace one edge. Using a pencil, draw a rectangle using the edge you just drew as the base of the rectangle, and make the sides of the rectangle about an inch high). Cut out the rectangle. Then make a series of cuts along the rectangle stopping about 1/4 inch away from the edge
Take a red piece of paper and cut out a tongue shape.
Using a black marker, draw 2 black dots on the side of one of the egg cups (this will be the nose)
Glue a Googly Eye in each of the other two egg cups
Glue the eyelashes to the top edge of the egg cup eyes, ensuring that the cut "lash" ends overhang the eyes
Fold the (dry) paper plate in half and attach the eyes and nose to the upper surface. Glue the teeth to the underside of the upper part of the mouth and the tongue to the inside of the lower part of the mouth.
Tips
This excellent project was created by dltk-holidays.com. Easy to follow instructions and templates can be found on their website: www.dltk-holidays.com
Reviews
✶✶✶✶✶ Not yet reviewed
Related Projects