Bagel Bird Feeder
The birds in your yard will have fun feasting on these easy to make bird feeders made from bagels and seeds....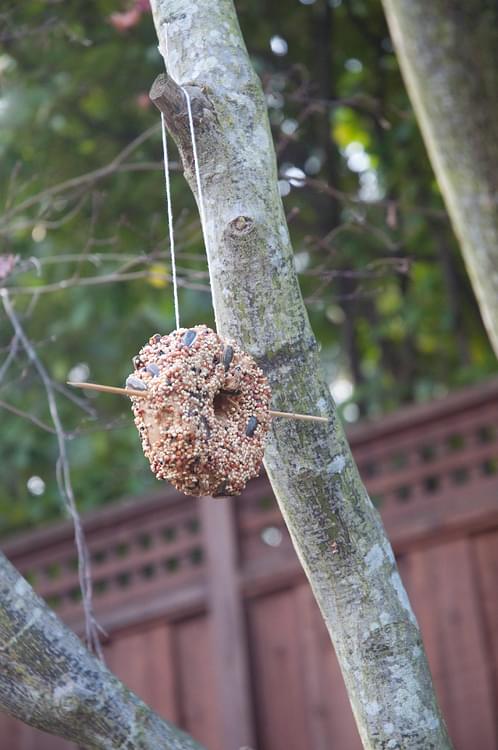 Project Info
| | |
| --- | --- |
| Difficulty | Easy |
| Duration | 15-30 minutes |
| Age | 3+ |
| Submitted by | |
| Share | |
Materials
Bagel
Bird Seed
Dowel or Kebab Stick
Smooth Peanut Butter
String (about 60cm long)
Instructions
Thread the string through the bagel and tie a knot between the ends to create a big loop - this will be used to fasten the bagel to a tree branch.
Coat your bagels in peanut butter
Spread the bird seed out on a plate, and roll the bagel in the seed - the seeds will stick to the peanut butter. Make sure that as many seeds as possible are pressed into the bagel.
Poke the kebab stick all the way through the bagel - this will form a perch for the birds to sit on when eating the seed.
Hang the bird feeder bagel outdoors and wait for your bird visitors to enjoy their feast.
Tips
You can easily use other materials as the base for these bird feeders - rice cakes, pine cones, toilet paper rolls, card, bark on a tree etc
If you have a child with peanut allergies, you can use vegetable shortening instead of peanut butter in this activity.
Try to hang your bird feeder somewhere where it can't be easily accessed by a cat or other predators!
The National Bird Feeding Association have some great information on attracting birds and feeding them safely. www.birdfeeding.org
Some people have concerns about using peanut butter for feeding birds. Family.com have put together a useful discussion of some of these concerns here: www.familycorner.com
Reviews
✶✶✶✶✶ Not yet reviewed
Related Projects
Project Themes
Project tags
birds
winter
Search by keyword