Leggy Spiders
These Long Legged Spiders are so straightforward that even preschoolers won't have any trouble making them with a bit of help. Elementary age children will have fun customizing them with different colored legs and if desired by adding designs to the abdomen. They will enjoy hanging them around the house or classroom as Halloween decor. .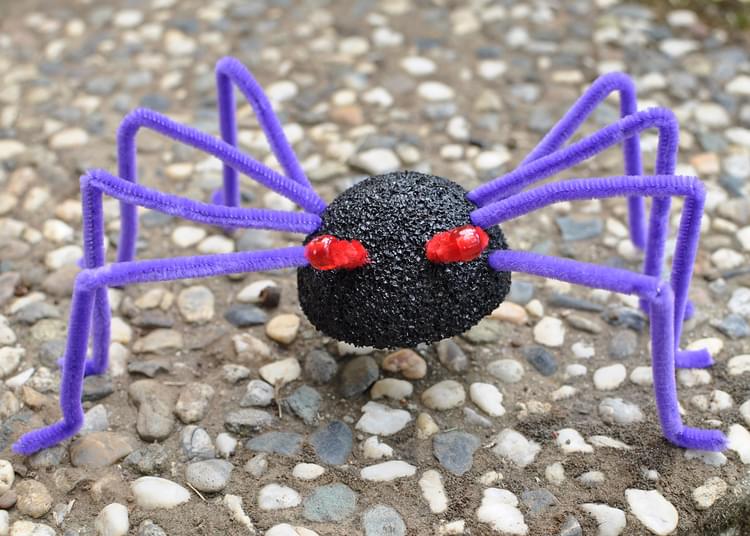 Project Info
| | |
| --- | --- |
| Difficulty | Easy |
| Duration | 15-30 minutes |
| Age | 3+ |
| Submitted by | |
| Share | |
Materials
2 Pony Beads for eyes (color of choice)
2 Pony Beads for eyes (color of choice)
4 Pipe Cleaners for legs and 1 for eyes (color of choice)
Black Paint
Styrofoam Ball
http://www.amazon.com/Liquitex-BASICS-Acrylic-Paint-8-5-oz/dp/B0026622QQ/ref=sr_1_4?ie=UTF8&qid=1379044105&sr=8-4&keywords=black
Instructions
Paint Styrofoam Ball Black
Take the 4 pipe cleaners that you wish to use for legs and cut in half. Take each piece and bend at the halfway point to form a right angle.
Push each leg into the styrofoam ball - 4 on each side. Mould and shape the legs until the spider can stand up.
Cut two 2 inch pieces from the pipe cleaner to be used for eyes Thread a seed bead onto the middle of each and then twist the ends of the pipe cleaner together to secure the bead. Poke the eyes into the styrofoam ball.
Reviews
✶✶✶✶✶ Not yet reviewed
Related Projects