Melted Crayon Earth
Melted crayons provide particularly vibrant colors to images. In this activity melted blue and green crayons are used to create a picture of planet earth. This makes a great earth day project - as you can talk about caring for the earths resources by recycling. In this case using old crayon stubs to create art!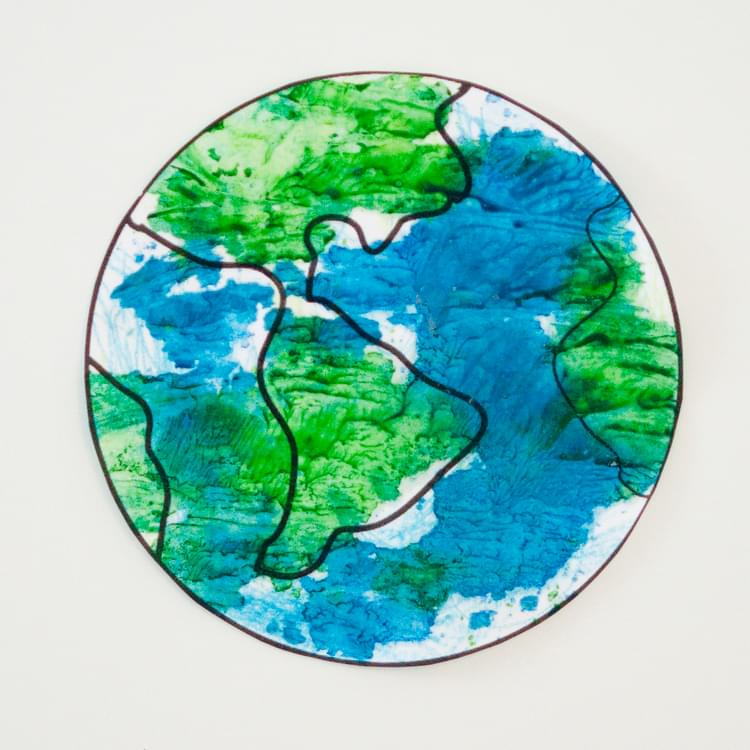 Project Info
Materials
Green and Blue Crayons
Pencil Sharpener
Planet Earth Coloring Sheet (find these online - see resources below)
Wax Paper
Instructions
Using Blue and Green Crayons color in your planet earth
Place your earth picture on a sheet of wax paper. Your sheet of wax paper should be large enough that there is a 2 inch border all around the earth picture.
Using a pencil sharpener, sharpen the blue and green crayons to create shavings. Sprinkle the shavings on top of the earth (blue shavings on blue coloring and green on the green coloring)
Place another sheet of wax paper over the earth, ensuring that there is at least a 2 inch border around any crayon shavings
Carefully place your pile of papers onto an ironing board. With the iron set to low, iron on top of the uppermost sheet of wax paper. You will see the crayon shavings begin to melt. CAUTION: TAKE CARE WITH USING AN IRON _ THIS STEP SHOULD BE PERFORMED BY AN ADULT.
Carefully peel the uppermost sheet of wax paper off. Leave your earth picture to cool and dry.
Tips
CAUTION: Remember to instruct children in the dangers of hot irons - and be sure they know not to touch the melted crayon shavings until they are cool.
Did you know that earth day has been celebrated on the 22nd April every day since 1970! Find out more at the United States Environmental Protection Agency (EPA): www.epa.gov
You will need a template of planet earth for this project. Try twistynoodle.com and bigactivities.com for two great examples. twistynoodle.com and www.bigactivities.com
Use different colors of crayons to make other planets in the solar system (e.g. yellow and orange for saturn, red for mars)
Reviews
✶✶✶✶✶ Not yet reviewed
Related Projects