Heart Sun Catchers
SO MUCH FUN! Grated crayons melted on wax paper make the best sun-catchers. Cut these into hearts to create gorgeous valentines decorations (or gifts)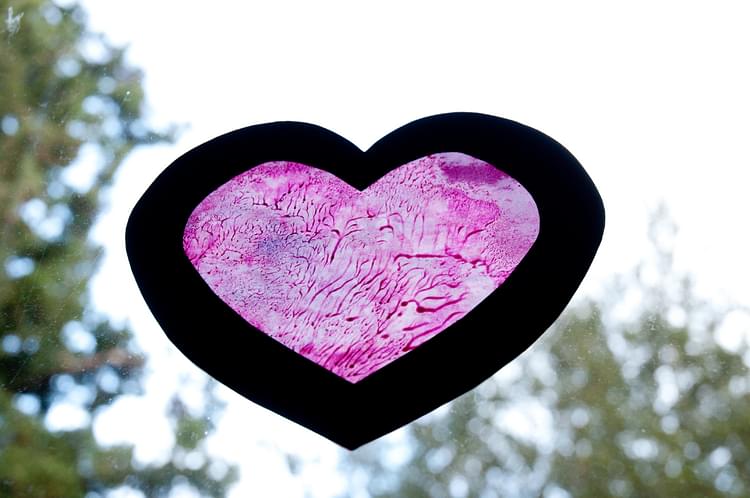 Project Info
| | |
| --- | --- |
| Difficulty | Slightly challenging |
| Duration | 15-30 minutes |
| Age | 5+ |
| Submitted by | |
| Share | |
Materials
Black Card
Crayons
Iron (ADULTS ONLY)
Pencil Sharpener
Wax paper
Instructions
Take the paper off your crayons and using a pencil sharpener create crayon shavings
Sprinkle the shavings in the center of a piece of wax paper
Place another piece of wax paper over the top.
Put an old towel or cloth on top of your ironing board to protect it, then place the double layer of wax paper on top and another old towel on top of that (this step is to ensure you protect your ironing board and iron from melted crayon)
ADULTS ONLY: With the iron on a low heat setting, iron the towel until the crayon shavings underneath have melted; checking every few seconds.
Remove the upper towel and carefully pull the top sheet of wax paper off.
Allow to cool
Cut into heart shapes and mount onto black card heart shaped frames.
Tips
Some beautiful examples of this project can be found online. For example wonderful examples can be found here: thebarefootmom.wordpress.com and here: www.marthastewart.com
It is not easy to have success with peeling apart the wax paper. It is easier to leave the two pieces of wax paper together and allow the cooled wax to seal them. Cut into heart shapes as is and mount - they will be slightly more opaque but still lovely.
Reviews
✶✶✶✶✶ Not yet reviewed
Related Projects