Ooze
Is it a liquid, is it a solid, or is it just fun? Ooze will run through your fingers, but if you roll it between your hands it will form a ball. Hours of fun are to be had exploring this slimy concoction.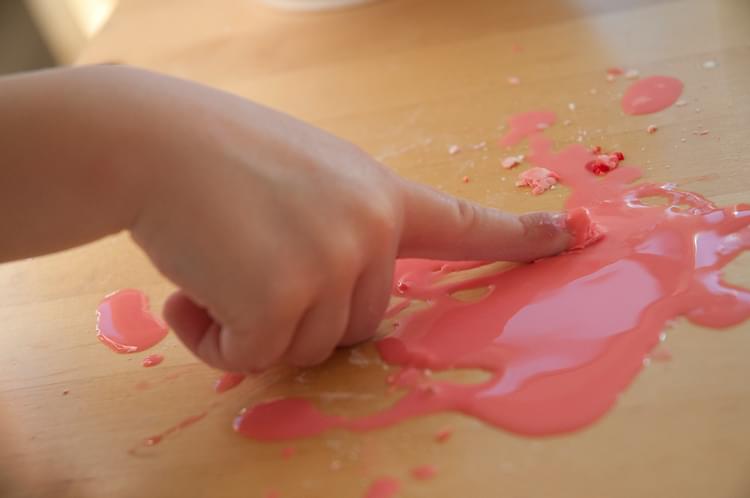 Project Info
| | |
| --- | --- |
| Difficulty | Easy |
| Duration | 15-30 minutes |
| Age | 5+ |
| Submitted by | |
| Share | |
Materials
1 cup of dry cornstarch
1/2 cup of water
Food Coloring (optional)
Instructions
Add food coloring to your cornstarch.
Slowly add the water, stirring with your fingers.
Keep adding water and stirring slowly until the ooze feels like a liquid and then stop. Try splashing the ooze by tapping a spoon on the surface of the ooze. If the ooze has formed then it will not splash.
If it is too wet add more cornstarch; too dry, add more water.
Now, have fun with your ooze. Try picking it up and holding it still - try pouring it and pushing it. Sometimes it will feel like a solid and others like a liquid.
Tips
Cover your work surface with a plastic sheet or newspaper if you don't want a huge mess!
Did you know that Tomato Ketchup is a non-Newtonian fluid! For that reason, it is actually faster to tip the bottle of ketchup slowly and wait for the ketchup to flow out than it is to hit the bottom of the bottle!
Thumbnail Image: Ooze_01.jpg
Science Tip: Ooze is a non-Newtonian fluid. In other words it acts as both a liquid and a solid. How it acts depends on the force that it is under. If the pressure is light e.g. when the object is simply held in your hand, or if it is stirred slowly then it will act as a liquid. However, if you apply significant pressure (for instance, if you bang the top of a cup of ooze, then it will resist and act as a solid.
Warning: Do not discard your unwanted ooze down the sink as you may cause a blockage in your pipes. You should dispose of it by placing in a plastic bag and putting in the trash.
Find more information on making ooze at the exploratorium wesbite: www.exploratorium.edu
For a comprehensive review of alternative recipes and a great scientific introduction to Ooze, see the bizareelabs.com site: bizarrelabs.com
Reviews
✶✶✶✶✶ Not yet reviewed
Related Projects
Project Themes
Project tags
chemistry
Search by keyword