Salt Ice Sculptures
These incredible salt-ice sculptures combine science, art and a big dose of fun! Simply take a large block of ice, salt and watered down paint – and combine! The salt and paint make the ice melt with interesting caves and crevasses which act as tunnels and lakes for the paint. The effect is stunning.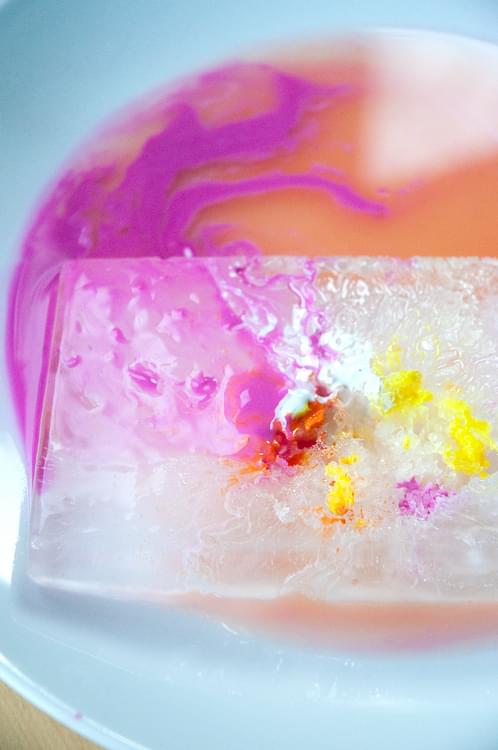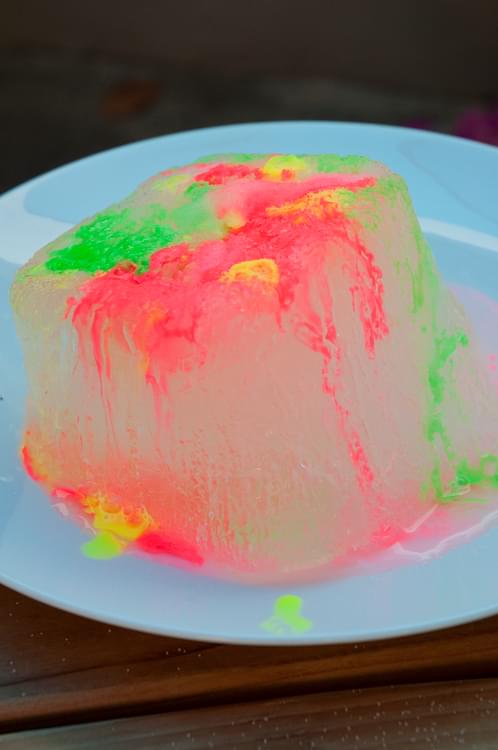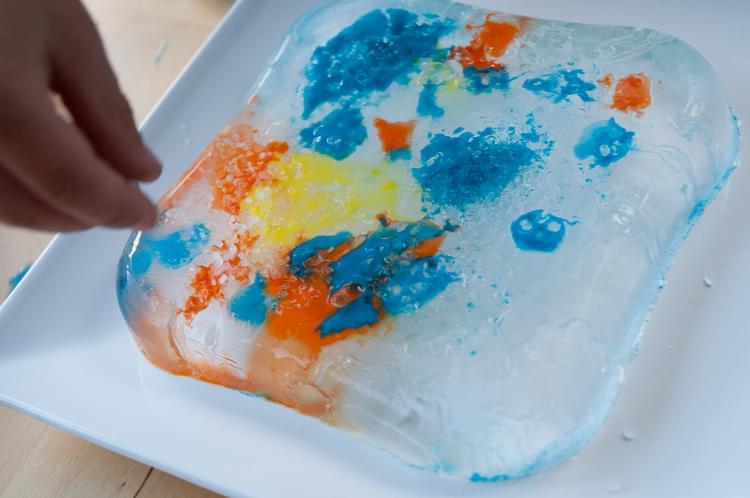 Project Info
| | |
| --- | --- |
| Difficulty | Easy |
| Duration | 15-30 minutes |
| Age | Any |
| Submitted by | |
| Share | |
Materials
Large plate, tray or cookie sheet
droppers
food coloring, liquid watercolors or watered down poster paint
medium size plastic containers, various sizes
table salt
Instructions
Take your plastic containers and fill with water. Place in the freezer until frozen
Remove your ice blocks from the containers (you may need to run them under hot water to loosen the ice). Place on a large plate, plastic tray or cookie sheet.
Add the salt to the ice - by sprinkling or pouring. The salt will begin to melt the ice when it comes in contact with the ice. Large piles of salt will quickly create large crevasses and caves in the ice. Add drops of food coloring to the sculpture – these will help to highlight the shapes being formed in the ice by the salt.
Continue adding salt and color until your creation is complete
Tips
Science Tip: Did you know: Salt melts ice at a lower temperature. That is why it quickly produces holes in the ice when it is sprinkled or poured over!
Science Tip: If you use red coloring, you might be lucky and experience iridescence – irridescene is where the color of something changes depending on the angle you look at it – just like on the wings of a dragonfly or beetle. It will appear as a green shimmer.
You can use other types of salt too – why not experiment and see if different types of salt cause the ice to melt in different ways
Caution: Food Coloring will stain clothing and work surfaces.
Reviews
✶✶✶✶✶ Not yet reviewed
Related Projects