Paper Cup Dragon Puppet
This colorful dragon puppet by jellyfishjelly.com can be made from a few paper cups and tissue paper. A fantastic project for Chinese New Year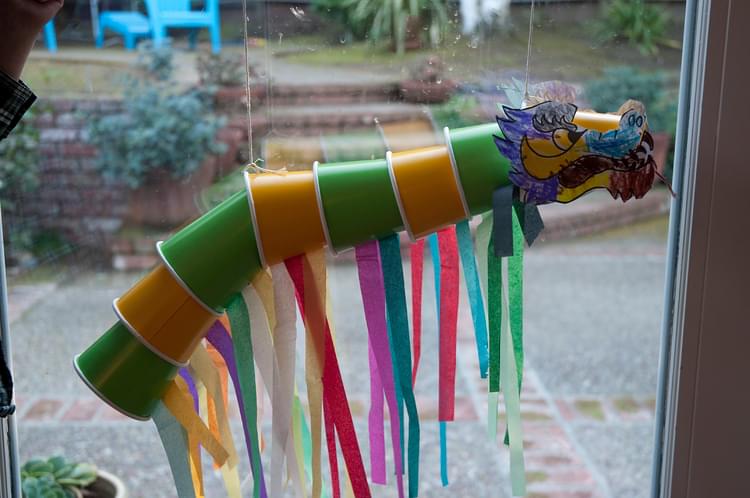 Project Info
| | |
| --- | --- |
| Difficulty | Slightly challenging |
| Duration | 15-30 minutes |
| Age | 5+ |
| Submitted by | |
| Share | |
Materials
Colored Streamers (Party Streamers, or strips of paper cut from colored craft or tissue paper)
Dragon Head Picture (See resources)
Glue Stick
Kebab Stick or other stick such as a dowel
Plastic Cups (Colored ones are best)
String
Toilet Paper Tubes
Instructions
Punch a hole into the base of each plastic cup by placing a blob of plasticine or wall tac under the cup and pushing a pencil through the bottom.
Cut the toilet rolls into pieces about 5cm long
Tie a large knot into the string and thread it into the cup and out the bottom.
Next thread on a piece of card roll.
Repeat with cups and card rolls until it reaches the desired length. Tie a large knot in the end of the string to secure the cups.
Draw and colour a dragon head or use one of the images provided in resources below.
Cut the streamers or coloured paper into lengths of approximately 30cm. Glue or tape the streamers along the length of the dragon's body.
Punch a hole into the top of the head cup.
Punch another hole into a cup toward the end of the dragon's body. (About 4th from the end)
Attach string from the holes to either end of the stick. Use the stick to manoeuvre the dragon puppet.
Tips
Detailed step by step instructions and templates for the dragons head can be found on the jellyfishjelly.com website: www.jellyfishjelly.com
Thumbnail image: Dragon_Paper_Cup_01.jpg
Reviews
✶✶✶✶✶ Not yet reviewed
Related Projects