Profile:
LilRed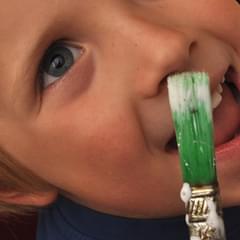 | | |
| --- | --- |
| About: | My LilRed Artist and I love creating art. |
| Location: | Menlo Park, CA, USA |
Projects
Little Pirates will love to make and wear these pirate hats.
These cute caterpillars will certainly capture the imagination of your kids!
These butterflies are a beautiful way to turn a child's footprint into a work of art. They make beautiful gifts if you do them on high quality paper and frame them – or if you make them directly onto canvas boards. They also make wonderful gift cards! Or, just do them for fun – what child doesn't love painting their feet and stomping on paper!
Don't leave your preschooler out of the jack-o-lantern fun. Provide them with a small pumpkin, googly eyes and other craft supplies and let them go wild!
A Paper Bag Painted Orange and stuffed with newspaper is the basis of this jack o lantern craft
My kids had so much fun with this - dipping string into paint and then dragging across the paper creates interesting designs.
Printing with Bubble wrap makes patterns that look just like corn cobs - and it is so much fun.
This activity is a favorite with preschoolers who can easily tackle the task with a little assistance; but it is also enjoyed by elementary school children as well who will have fun personalizing their snowmen.
Using masking tape to resist paint creates wonderful stripes, making this an ideal technique for making candy cane pictures with small children
Roll marbles through blobs of paint, or dip them in paint and roll them over paper! So easy, so fun AND produces amazing results that event the littlest artist will be proud of.
My kids had so much fun creating these puffy paint snowmen. The paint, puffs up as it dries.
This is a super easy project that younger kids can do and enjoy. My son was so proud of his elmo, he wanted to keep it beside his bed
We discovered this project by accident whilst doing a different activity. Simple scribbles of markers can be turned into the most beautiful abstract art.
These are a variation on the Easter Chicks that are on the activityvillage.co.uk. They used polystyrene eggs - we decided to dye real eggs.
Who could resist these cotton ball bunnies? An adorable project for preschoolers.
This is one of those classic paper plate projects. Cut a spiral in a paper plate and there you have it - a coiling snake.
You can create a spin art painting using a kitchen salad spinner: and if you use washable paints, you shouldn't have any trouble continuing to use it for your salads too!
Sun Prints are fantastic fun. All you need is a pack of light sensitive paper and your imagination! This is a great project for young and old alike. Younger kids will be fascinated by the magic of this project. Older kids will be able to use their imaginations to create pictures from objects - and a great opportunity to talk about the science of light and photography too!
Preschoolers will love this Summer Strawberry Project
Paper Plate projects are my favorite - here's a simple one that will really engage preschoolers.
Perfect for a Farmyard Theme, or to make as a companion to reading the Three Little Pigs, these paper plate piggies are simple to make and oh so cute!
Summery art for those tiny hands! This cheerful sun project will bring smiles to any home or classroom as children transform their hand prints into bright rays of summer light.
These simple kites made out of paper bags really fly! Decorate using paint, markers or stickers, then take them to park or the beach and watch them soar.
These cheerful hats are easier to make than they look, and are a great accessory for Independence Day on July 4th, for celebrating Uncle Sam's Birthday in September or to complement an American History Unit in preschool or elementary school. They would also make great centerpieces for a celebratory table.
These pumpkins have handprint leaves - a fantastic Halloween or Thanksgiving project to do at home with your preschooler or in a preschool classroom. It incorporates both sensory and fine motor elements: making hand prints, scrunching up paper bags, and cutting and gluing yarn.
A perfect Halloween project for the Preschooler or Toddler: easy, quick and oh so cute.
My kids loved creating these cute lions. Not only are they easy to create, but they look super cute too. Great for that rainy day at home, or to complement a Jungle or Letter L theme at preschool.
Once finished these lemons feel (to touch) remarkably like real lemons, which is cool! And also makes this a great sensory project for preschoolers: touch (texture), sight (vibrant yellow colors) and taste - because it is just wrong not to accompany this activity with either a wedge of lemon to explore or a small glass of lemonade!
These bright lizard pictures look great pinned on the kitchen fridge. And they are so straightforward to produce that with a little preparation toddlers and preschoolers will have no trouble with this activity. A great project for a "Letter L" theme in the classroom - or a quick and easy activity to entertain your little artist.
Explore the Letter "L" with toddlers and preschoolers by sprinkling Lentils onto a cut out "L". A simple way to introduce this letter - and the kids will have a lot of fun handling the lentils which provide a great sensory experience.
Toddlers and Preschoolers will love this autumn project. Simply pile small pieces of torn tissue paper onto a sheet of paper and spray with water. The colors from the tissue paper will bleed onto the paper and will merge, mingle and blend to make beautiful subtle patterns. Using fall colored tissue paper (reds oranges and yellows) and cutting out the finished art work into leaf shapes makes beautiful fall leaves. Mount the leaves onto a paper branch for a beautiful fall picture.
Reviews
No reviews yet.