Sun Prints
Sun Prints are fantastic fun. All you need is a pack of light sensitive paper and your imagination! This is a great project for young and old alike. Younger kids will be fascinated by the magic of this project. Older kids will be able to use their imaginations to create pictures from objects - and a great opportunity to talk about the science of light and photography too!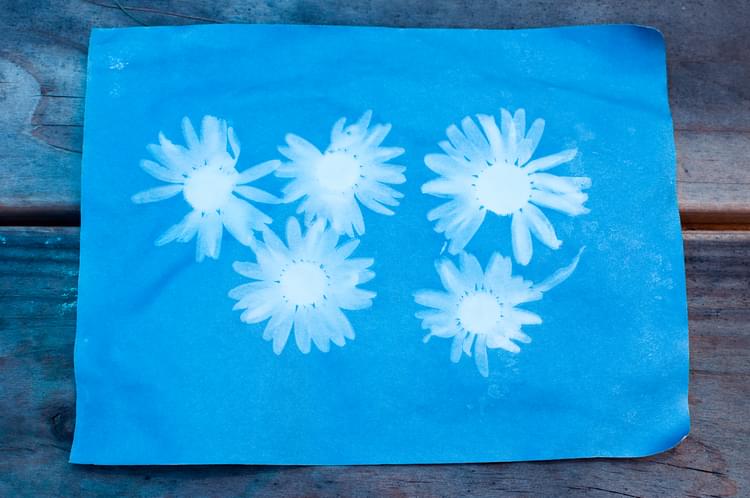 Project Info
| | |
| --- | --- |
| Difficulty | Easy |
| Duration | 15-30 minutes |
| Age | 3+ |
| Submitted by | |
| Share | |
Materials
Acrylic Sheet (Optional)
Light Sensitive Paper
Objects! (Leaves, Flowers, toys, hardware - whatever you like!)
Tray (or card or board)
Instructions
Staying inside, or in the shade, take your light sensitive paper out of the pack and place on tray
Assemble your objects on the paper
If using lightweight objects such as petals, place the acrylic sheet over the top
Carefully carry the tray into an area of full sun
Leave for 1-5 minutes (be careful not to let your shadow cover the paper at all). You will see the paper slowly turning pale - when it is a cream / white color, it is done.
Tip the objects off and carefully wash the paper in the water for 1 minute
Place the paper on a flat surface to dry (in the shade: sun will make the edges of the paper curl)
Tips
The paper will slowly start to expose as soon as it is removed from the pack (or quickly if you are in the sun). Make sure the paper is in the pack and that it is sealed at all times when you are not using it. However, you don't need to panic - if you are inside or in the shade, exposure will be slow, so you have time to arrange your objects on the paper.
Be careful when handling your completed print: make sure your hands are dry otherwise you will damage the print.
Have extra pairs of hands at the ready!
Reviews
✶✶✶✶✶ 1 review(s)
✶✶✶✶✶
WELL DONE (no pun intended!)
These directions are excellent from beginning to end... Especially about the plastic sheet and keeping the exposure for the art and not ruin the adventure! This could easily connect with photosynthesis and what plants need to grow.
Related Projects