Easter Chicks
These are a variation on the Easter Chicks that are on the activityvillage.co.uk. They used polystyrene eggs - we decided to dye real eggs.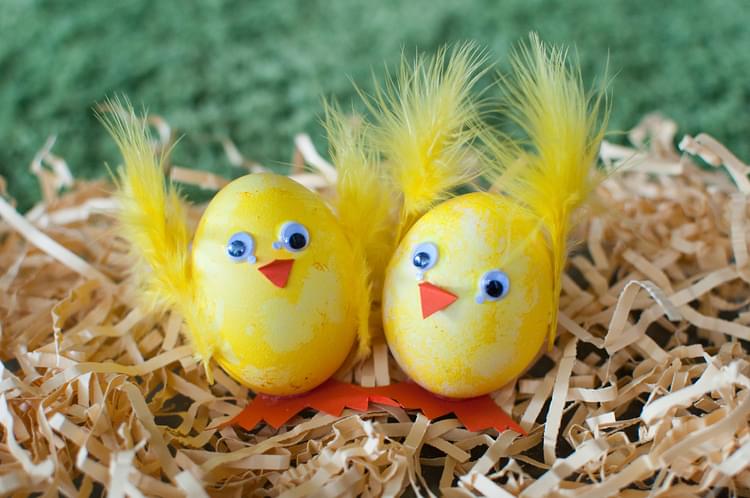 Project Info
Materials
Chicken Egg (If you can find a white one, they are best)
Googly Eyes
Orange Card
White Vinegar
Yellow Craft Feathers
Yellow Food Coloring
Instructions
Dissolve drops of food coloring to about 3/4 cup very hot water until the water is colored bright yellow. You will meed about 20-30 drops of liquid color
Add 1 teaspoon of vinegar. Stir
Place the egg in the colored water. Leave it there for around 5 minutes or until the egg is the desired color. The longer that you leave the egg, the older the color.
Leave to dry
Cut the orange card into "feet" shapes. These need to be big enough to support the weight of the egg. Also cut a small diamond shape for the beak.
Using a hot glue gun, stick the egg to the card "feet" and stick on the chicks beak
Add the googly eyes and feathers for wings.
Tips
Food Coloring will stain clothing and surfaces.
Adding vinegar to the water helps to make to color of the egg brighter. However, don't leave the egg in the vinegar water too long, it works by softening the shell and allowing the dye to penetrate it. If you are not careful you will end up with a squishy egg.
Reviews
✶✶✶✶✶ Not yet reviewed
Related Projects
Project Themes
Project tags
easter
egg
Search by keyword