Bubble Wrap Corn Cobs
Printing with Bubble wrap makes patterns that look just like corn cobs - and it is so much fun.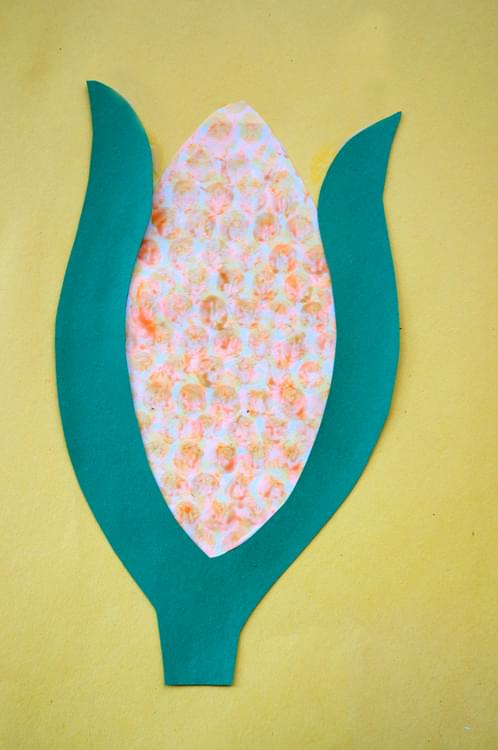 Project Info
| | |
| --- | --- |
| Difficulty | Easy |
| Duration | Under 15 minutes |
| Age | 3+ |
| Submitted by | |
| Share | |
Materials
Bubble Wrap (About 6"x8")
Glue
White, Green/Brown and Yellow Paper
Yellow, Brown and Orange Paint
Instructions
Paint the bubble wrap with yellow, brown and orange paints.
Press the painted bubble wrap onto the white paper, and then gently remove.
Adults only: Once the paint is dry, cut out the print into a corn cob shape. Then create a husk shape out of green or brown paper. Stick the Corn cob onto the paper and then place the husk on top.
Tips
Did you know: The first Thanksgiving feast lasted for three days: the English settlers and native men, women, and children ate together. The meal consisted of deer, corn, shellfish, and roasted meat, far from today's traditional Thanksgiving feast. Find out more child-friendly facts about Thanksgiving on the National Geographic kids web page: kids.nationalgeographic.com
Melissa at 1pureheart had a great idea to make a wreath out of these corn cobs. This would be a great idea for a project for a preschool class: 1pureheart.blogspot.com
You could make a 3D version of these corn cobs by painting a rectangle of bubble wrap then rolling it and securing with tape. Place inside green paper leaves and use raffia to create the "strings" if desired. You could even make a stem for children to hold by securing a green popsicle stick inside the bubble wrap and securing the base of the leaves to this.
Reviews
✶✶✶✶✶ 1 review(s)
✶✶✶✶✶
Fun for Preschool
I haven't done this yet, but I plan to do it at Thanksgiving. I wonder about making a 3D version - see my tip for details
Related Projects