Profile:
Acornutalot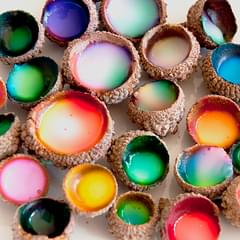 | | |
| --- | --- |
| About: | Love crafts, and art and anything creative. Also enjoy baking, photography and being outdoors with the kids... |
| Social: | |
| Location: | Menlo Park, CA, USA |
Projects
A great fall activity – turn simple acorn cups into delightful sparkling treasures – gems for your little pirate or princess or tiny tea cups for your fairy garden. These are easy enough for preschoolers to enjoy making – and are fascinating to watch drying. Simply color the insides of acorn cups and "varnish" with white school glue!
Add these crystal flowers to canvas or frame them to create a fabulous gift.
This vibrant activity is a great one for a family or preschool group - participants of all ages can work together to create the leaves which an older child or adult can then cut out and put together to form a tree
I created this project as a way to experiment with various paint techniques. I love the way that they turned out! This is not an activity to do in an afternoon - rather one to spread over a week or longer - each of the underlying "paintings" can be created separately in advance.
Chocolate Biscuit Cake (also known as refrigerator cake) has long been a favorite of children in the United Kingdom. It's place in society was sealed when Prince William requested one as his "groom's cake" at his wedding to Kate Middleton. Simple and super fun to make, with no baking required; even the youngest kids can get involved in helping to create these. And everyone in the family will enjoy helping to eat them!
These cute snowmen can be put together in no time. I think these will be a winter family tradition!
These Marshmallow Flowers are great as an unusual Valentines, Thank you or Mothers Day gift. Simple to make and delightful to receive
Paint Chips are available in a wonderful array of colors. This Christmas Tree is created by cutting up a variety of green shades into tiny pieces and then making a christmas tree collage. Requires a bit of patience and dexterity, so probably not the best project for the youngest kids.
Create these special 3D heart cards using puffy paint and glitter.
I saw this incredible project on the Rakers Family Blog and thought it would be a great project for the kids to do for Grandma's Birthday. She LOVED it.
I was so excited to try this project with my kids, I remember seeing it demonstrated on the TV when I was a kid wishing I could try it.
Easter is not complete for me without these delicious traditional English treats (this fabulous recipe taken from Paul Hollywood at the BBC Good Food Magazine). It is definitely worth finding the time to make these with your kids at least once. It takes all day but kids love making the dough and watching it rise. And don't forget the yummy treat at the end! You can't beat these halved, toasted and covered in lashings of butter. Yummmmm
These chocolate nests are a breeze to make, are super cute and very yummy. The instructions will make one nest, simply multiply the ingredients by the number of nests you want to make more.
These super cute glow bugs had my children captivated. They were flying them round the yard for ages - and then they lined up on their shelf as night lights when they went to bed!
Dream Catchers were made by native american indians. They would hang these over their beds as they believed bad dreams could not pass through the woven net. Good dreams could pass through and would slide down the feathers to the sleeping person below. These simple versions use pipe cleaners, embroidery thread and craft feathers.
This is a really cute project to do: a sand covered hand print! It's simple to do on the beach and makes a wonderful memory of your vacation. Older kids will be able to do this themselves.
These amazing sparkly Spider's Webs are deceptively easy to create. White glue is used to create a spider web shape on watercolor paper. Once dry, watercolor paint is then brushed over. The glue will resist the paint so that the web shape stands out from the painted background. The addition of glitter gives the web that glittery effect reminiscent of an early dew covered morning. A simple glittery eyed spider finishes the effect.
One of our favorite activities is using salt to create texture on watercolor paintings. In this activity Salt and Glue are used to turn a simple watercolor painting into the surface of the moon! Leave as is for a great Space themed project or add some black card silhouettes and you have a spooky Halloween picture.
Reviews
No reviews yet.