Dream Catchers
Dream Catchers were made by native american indians. They would hang these over their beds as they believed bad dreams could not pass through the woven net. Good dreams could pass through and would slide down the feathers to the sleeping person below. These simple versions use pipe cleaners, embroidery thread and craft feathers.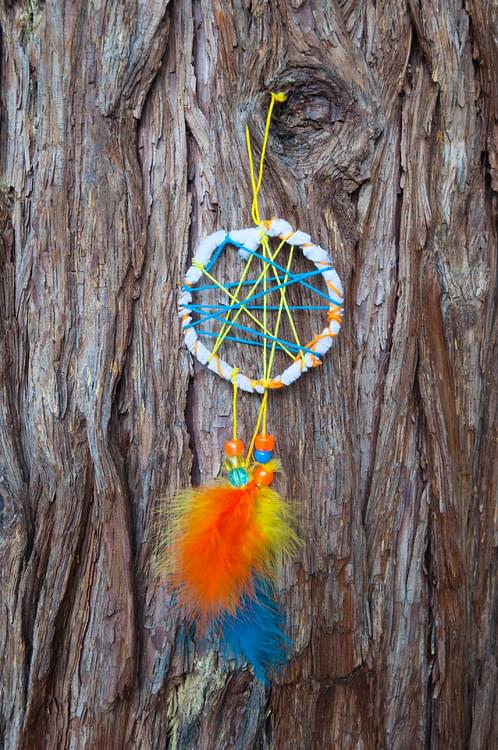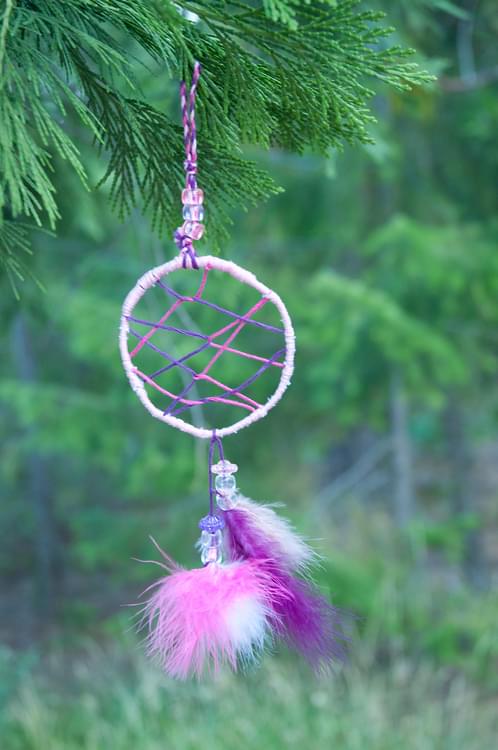 Project Info
| | |
| --- | --- |
| Difficulty | Difficult |
| Duration | 1 hour |
| Age | 5+ |
| Submitted by | |
| Share | |
Materials
Beads
Craft Feathers
Embroidery thread
Pipe cleaners
Instructions
Shape a pipe cleaner into a ring, twisting the ends together to secure.
Cut a length of embroidery thread. Tie this to the ring. Now pass it back and forth around the ring, and tie the other end to fasten. Repeat as desired with more threads of the same or different colors.
Cut a sort length of embroidery thread and tie the end tightly to a craft feather. Thread 2-3 beads onto the thread so that they lie just above the feather. Tie the other end to the ring. Repeat as desired.
Create a hanging loop - a simple loop of thread is sufficient, but if desired more beads can be added.
Tips
When passing the thread around the ring, you will get better results if you wrap the thread once around the pipe cleaner before passing the thread back to the other side of the ring. This secures the thread and prevents it form slipping.
You may wish to place a blob of glue on top of the thread on the feather to help secure them.
These dreamcatchers are a great project for Native American Week.
Reviews
✶✶✶✶✶ Not yet reviewed
Related Projects