Glowing Glow Bugs
These super cute glow bugs had my children captivated. They were flying them round the yard for ages - and then they lined up on their shelf as night lights when they went to bed!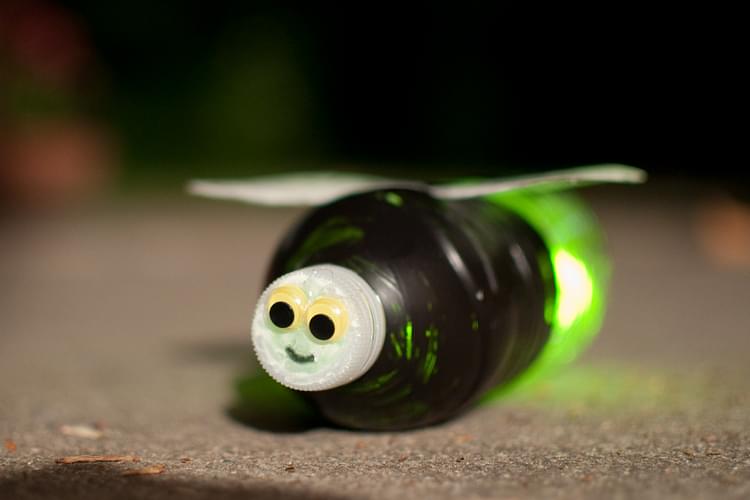 Project Info
| | |
| --- | --- |
| Difficulty | Slightly challenging |
| Duration | 1 hour |
| Age | 5+ |
| Submitted by | |
| Share | |
Materials
Black Acrylic Paint
Glow Sticks
Google Eyes
Hot Glue Gun
Large Water Bottle
Optional (Glow Paint)
School Glue (PVA) e.g. Elmers
Small Water Bottle (Empty)
Instructions
Preparation Step 1: Cut wing shapes from your large water bottle
Preparation Step 2: Make a mixture of 1 part black paint to 1 part glue (half a tablespoon of each should be sufficient for several glow bugs)
Paint the small water bottle with the paint mixture, leaving the lid and the bottom half of the bottle unpainted (this will be the bug's tail). If you wish you can paint black stripes on the bottom section.
If desired paint veins on the plastic wings and paint in glow paint!
Leave the bottle and wings to dry
ADULTS ONLY: Using Hot Glue, attach the googly eyes to the lid of the water bottle and the wings to the bug's back. (When attaching the wings, apply only light pressure - if you distort the plastic then when you let go, the plastic will reshape causing the glue to become unstuck)
When it is dark, get a glow stick and shake to activate. Carefully fold the glow stick in half and place inside the water bottle. This works best if you push the folded end in first.
Take your bug into the dark, and enjoy! :)
Tips
BE CAREFUL: the heat of the hot glue will pass through the plastic. Use caution so as not to burn your hands.
It's a bit tricky getting the wings to adhere. You'll find it easiest if the base of the wings is relatively small (e.g. around 0.75") and if you apply only gentle pressure when attaching with the hot glue.
Make sure you are well organised before you start this project, gather all the materials together before you tell the kids what fun is in store!
Reviews
✶✶✶✶✶ 1 review(s)
✶✶✶✶✶
Happy bug
This was lots of fun, a bit tricky but worth the effort to see the kids faces once the lights went out
Related Projects