Sand Hand Prints
This is a really cute project to do: a sand covered hand print! It's simple to do on the beach and makes a wonderful memory of your vacation. Older kids will be able to do this themselves.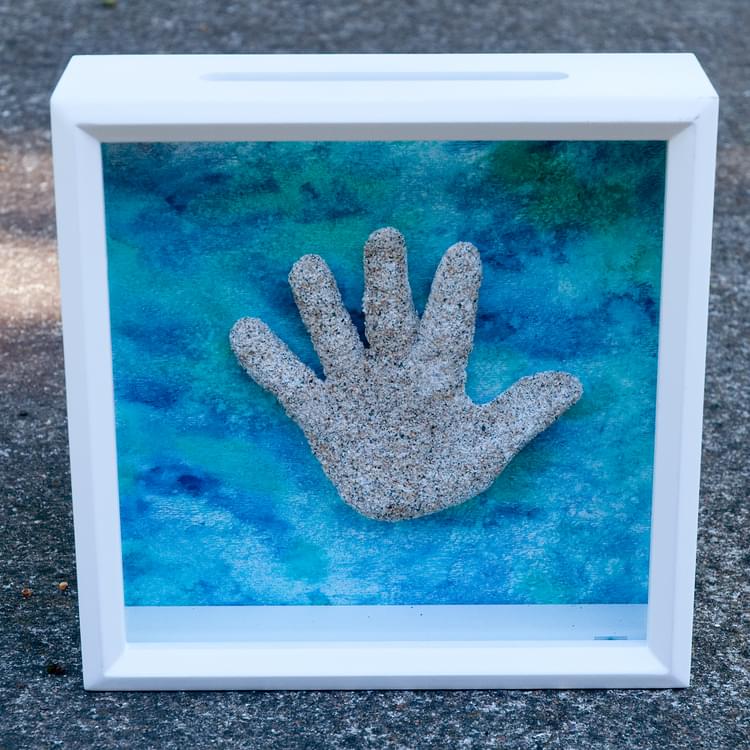 Project Info
| | |
| --- | --- |
| Difficulty | Slightly challenging |
| Duration | 1 hour |
| Age | 5+ |
| Submitted by | |
| Share | |
Materials
A beach! (Or a box of sand)
Plaster of Paris
Instructions
Make a Hand Print in the sand. This is easiest done in damp sand. (The easiest way to do this is to get your child to put their hand flat on the sand and arrange their fingers. Then carefully press each finger down).
Make up the plaster of Paris to the right consistency according to the packet: Or simply add water until the consistency is that of a thick batter which is still pourable: with no lumps
Carefully pour the Plaster of Paris into the Hand Print.
Wait until completely dry. The time that this takes will depend on how warm it is. The longer the better - but about an hour should do it.
Now VERY carefully remove the hand print from the sand. Don't try to lift it out by by the fingers - as they will break off. You are best off using a shovel to carefully dig around and under it and then carefully brush the sand off.
You can carefully wrap the print up and take it home now - but you should take it out and leave it to air / harden overnight once you are home
You can now mount your handprint onto card and frame it.
Tips
To make it easy to make this on the beach - put some plaster of paris in a ziplock bag. Then when you are on the beach add sea water to the bag and shake to mix. You might want to take a few bags so that you have enough for a few attempts! Don't forget to label the ziplock bag so you don't forget what's in it.
If it is a really sunny / warm day the plaster of paris will start to harden as you stir it - so be sure to try to do this in the shade and work quickly!
It is very easy to break the fingers off - be very careful when trying to remove from the sand.
Plaster of Paris is really inexpensive and can easily be bought from craft shops and online.
Reviews
✶✶✶✶✶ Not yet reviewed
Related Projects