Autumn Tree
This vibrant activity is a great one for a family or preschool group - participants of all ages can work together to create the leaves which an older child or adult can then cut out and put together to form a tree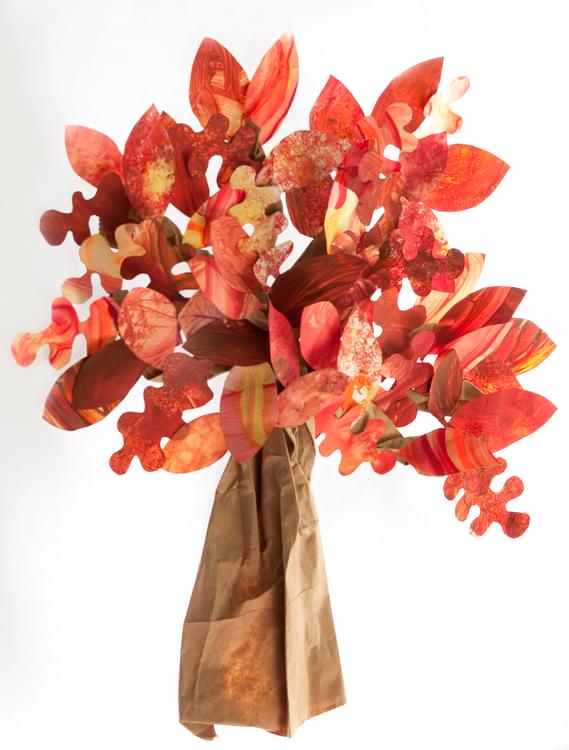 Project Info
| | |
| --- | --- |
| Difficulty | Slightly challenging |
| Duration | 1 hour |
| Age | Any |
| Submitted by | |
| Share | |
Materials
A paper bag (large - grocery sized)
Glue
Large Sheet of White Card (or paper stuck onto card)
PAint Brushes, sponges etc
Paint (in Autumn Colors)
White Paper
Instructions
Using red, orange, yellow and brown paint; paint several sheets of white paper. The more interesting the texture, the better: experiment with using sponges, paint rollers, finger painting, marbling etc
Cut out leaf shapes from the painted paper
Cut out one side of the paper bag forming a large rectangle. Now cut 4 lines about 2 inches deep into the paper bag. Now twist each of these 4 lines taking care not to break them off of the rest of the bag - you are forming the branches of the tree. Now twist the rest of the bag - forming the trunk of the tree.
Glue the tree to the large sheet of card arranging the branches into a loose tree shape
Glue the leaves around the branches. Place a little glue on the base of the leaf only and then attach, leaving the rest of the leaf free. By folding the leaf slightly and overlapping leaves, you can get a great 3D effect.
Tips
You could adapt this project by making leaves by doing crayon rubbings of real leaves....
Reviews
✶✶✶✶✶ Not yet reviewed
Related Projects