Profile:
MonkeyFun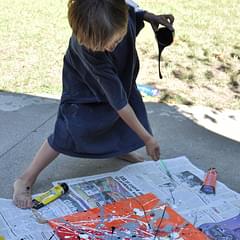 Projects
The project is a great visual introduction to color mixing – suitable for even younger kids.
Paper Mache Dinosaur Eggs are fun to make and are a great tool for imaginary play for young kids. If you place a plastic dinosaur toy inside, kids can have fun "hatching" the dinosaur: a fun idea for a dinosaur themed party...
Catch bugs and creepy crawlies to study with this simple yet very effective bug trap.
Super fun activity for a rainy day - send balloon rockets flying across the room. My kids had so much fun with this one - trying out different combinations to see which rockets could fly fastest - great fun and lots of learning going on too!
Black Ink is just black right? No! And in this experiment you can watch as the ink separates into several colors before your eyes. And not just black ink!
This is such a fun activity for kids of all ages. Simply paint on bubble wrap and then press onto paper to create dotty prints....
Watch as flowers change colors before your eyes!! A great science project that gives a really visual demonstration of the way that plants use water.
What could be more exciting than creating and exploding your own volcano? A craft and a science project combined!
These super cool paper skateboards will get even the most reluctant boy excited about art. They also make fantastic greetings cards for the boys in your life - simply stick them to a folded piece of card!
This is a favorite for our family camping trips. Super fun and produces amazing pictures, but also an opportunity to learn a bit of science: light, motion & photography!
Ever since my son was able to walk he has picked up every shiny thing he has passed on the sidewalk. This project puts that collection to good use (helped by a raid of the trash and Dad's toolbox!). This would be a great project to do for Fathers Day
This homemade sprinkler was a huge hit for my family - a perfect way for them to cool down in our recent heat wave.
Fascinating fact: Soda bottle tops are the same fitting as a standard garden hose faucet. That means that you can screw a garden hose onto a soda bottle. Drill a few holes in the bottle, and string it up a tree (or as we did - up a basketball hoop) and you have a fun outdoor shower for cooling off on those summer days.
These tiny works of art are adorable. Popsicle sticks are used to create a reusable picture frame, which is then filled with tiny works of art. You could put a photograph in the frame instead. Either way - they make great gifts.
Ivory Brand Soap Floats when dropped in water making it the perfect base for little boats. These are fun to sail in the bath - or in the summer months in a kiddie pool in the yard. Try racing them!
These fun and not so scary Frankenstein Monster masks will provide much fun at Halloween, as a craft, a homemade costume or as a centerpiece on a Halloween table. Elementary age children should be able to complete most of this project on their own without much assistance.
Reviews
No reviews yet.