Color Mixing Ice
The project is a great visual introduction to color mixing – suitable for even younger kids.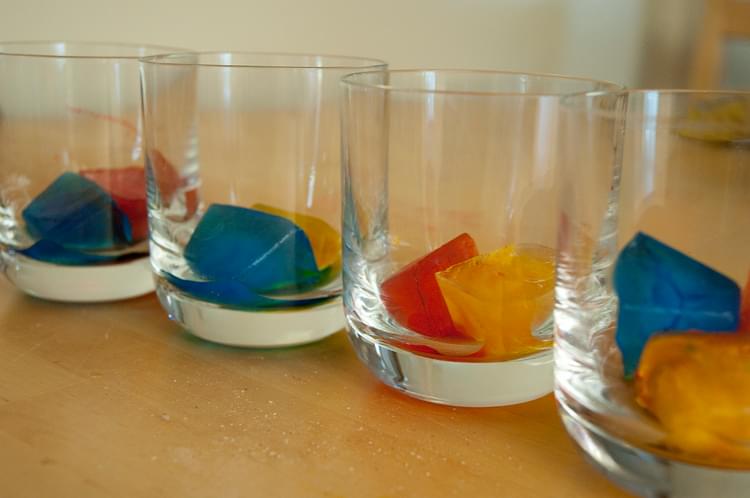 Project Info
| | |
| --- | --- |
| Difficulty | Easy |
| Duration | 1 hour |
| Age | 5+ |
| Submitted by | |
| Share | |
Materials
Ice Cube Trays
Red, Blue and Yellow Food Coloring
Water
Instructions
Fill a small container with water and add a few drops of red food coloring, and mix to create red water. Repeat to create blue and yellow water
Pour the colored water into ice cube trays taking care not to mix the colors at this stage
Place in the freezer
Once the ice cubes are frozen, remove from the freezer. Place two or more ice cubes of different colors into clear or white containers and watch as they melt and the colors combine to create new colors.
Tips
Want to learn more about colors? Surfnetkids has a directory of great websites about color: www.surfnetkids.com
You can have your child help to fill the ice cube trays using an eye-dropper
You may want to try the following combinations of ice cubes: red + blue (makes purple), yellow plus blue (makes green), red plus yellow (makes orange), red plus blue plus yellow (makes brown)
Experiment with different combinations of multiple ice cubes – for instance you can see whether a better color is produced by combining 1 yellow to 1 red ice cube as opposed to 2 red and 1 yellow or 1 red and 2 yellow etc
Science Tip: The colors used in this project are primary colors. Primary colors can not be created by mixing other colors. All of the other colors of the rainbow (secondary colors) can be made by missing the primary colors together
It is fun to do this project in the bath or a kiddie pool – add colored ice cubes to the water and enjoy bathing in colored water!
Warning: food coloring can stain hands, clothing and surfaces. Make sure your child is wearing an art smock or apron and that any surfaces are covered with a plastic tablecloth. If you mind your hands being stained, then use a spoon to transfer ice cubes around.
I used child friendly paint to do this and then used the ice cubes to paint with, great fun for the children and makes great paintings for their latest masterpiece!
Reviews
✶✶✶✶✶ 1 review(s)
✶✶✶✶✶
Alternative to food colouring!
A fun project whilst learning about water into ice and colours!
Related Projects