Chromatography Experiment
Black Ink is just black right? No! And in this experiment you can watch as the ink separates into several colors before your eyes. And not just black ink!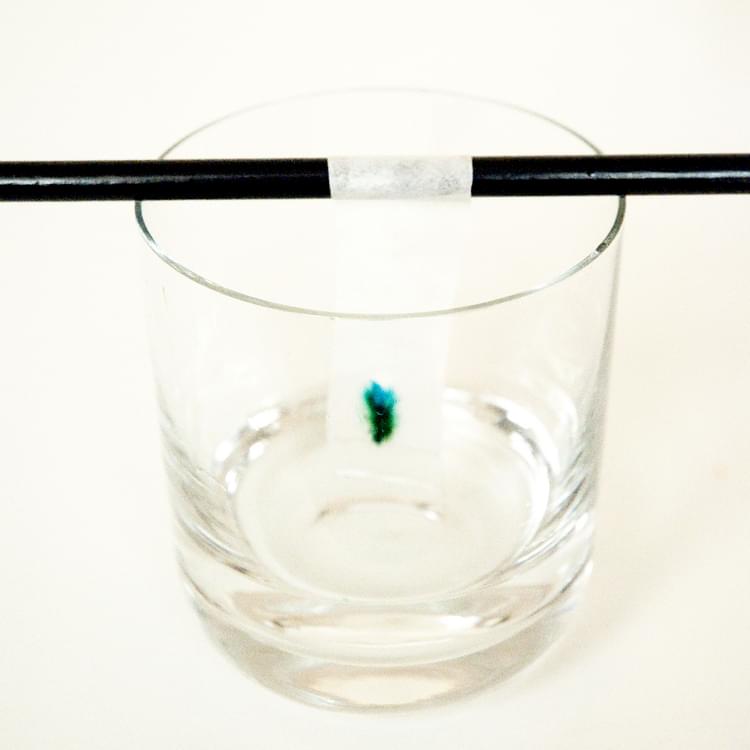 Project Info
| | |
| --- | --- |
| Difficulty | Easy |
| Duration | Under 15 minutes |
| Age | 5+ |
| Submitted by | |
| Share | |
Materials
Coffee Filter
Drinking Glass or Jar
Pencils
Scissors
Washable Markers (Black., Brown and Orange work particularly well for this project)
Instructions
Cut your coffee filter into several strips around 2 inches long and 1/2 inch wide.
Draw a pencil line across the bottom of each strip, about 1/4 inch away from the bottom
Using the washable marker make a dot of ink in the middle of the pencil line. Be sure to hold the pen onto the strip for several seconds to make a nice densely colored dot.
Wrap the other end of the paper strip several times around the middle of a pencil and secure (you are going to use the pencil to suspend the strip over water)
Lay the pencil across the glass or jar so that that the coffee filter strip is suspended below.
Slowly add water until the very bottom of the paper strip is submerged (be careful not to submerge the colored dot).
Watch as the water starts to be soaked up into the coffee filter. As it passes the marker dot, some of the pigments of ink will be spread by the water. Those pigments that are larger molecules will travel more slowly, which results in a separation of colors occurring.
Tips
Some markers will work better than others for this activity.
Reviews
✶✶✶✶✶ Not yet reviewed
Related Projects
Project Themes
Project tags
color
Search by keyword