Nuts n Bolts Car
Ever since my son was able to walk he has picked up every shiny thing he has passed on the sidewalk. This project puts that collection to good use (helped by a raid of the trash and Dad's toolbox!). This would be a great project to do for Fathers Day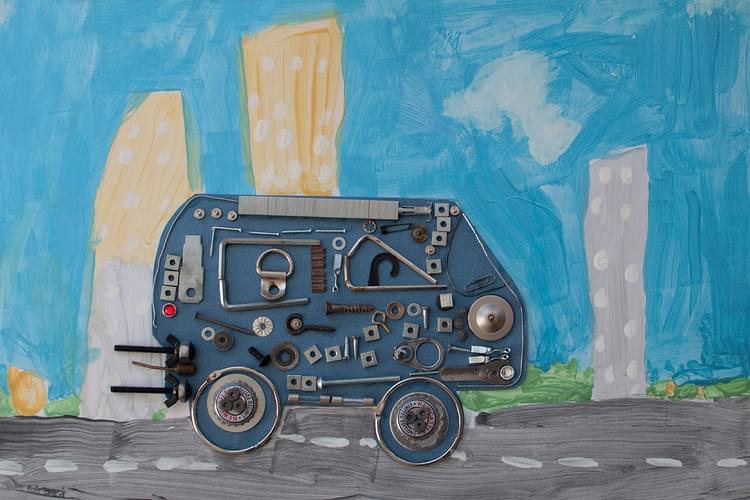 Project Info
| | |
| --- | --- |
| Difficulty | Easy |
| Duration | 1 hour |
| Age | 5+ |
| Submitted by | |
| Share | |
Materials
A collection of hardware: nuts, bolts, washers, screws, allen keys etc
Card (whatever color you want your car to be)
Other metal things: buttons, bottle tops etc
Paint
Strong Glue (e.g. Tacky Glue or Hot Glue)
White Poster board
Instructions
The first step for this project is to collect some metal bits and bobs to use to create the art. Bottle tops, screws, nuts, bolts, allen keys, soda pull rings, keys, springs etc.
Once you have your collection assembled sketch the broad outline of a car onto a piece of card using a faint pencil line. Cut out around the outline you have created. You should now have a car shaped piece of card.
Now the fun starts. Arrange your collection of hardware and metal objects around and within the car to create the image of a car. Once you are happy with your arrangement you can start glueing on the pieces using strong glue.
Paint a picture of a road and scenery on the posterboard. This will form the background to your picture.
Using strong glue, glue the car onto the road image.
Tips
When we were creating our outline of a car, we found an image of a car online that my son liked, printed it and he used that to help him draw the outline.
You could create a truck, bicycle, motorbike, boat or any other motorised vehicle in this way.
Reviews
✶✶✶✶✶ Not yet reviewed
Related Projects