Paper Mache Dinosaur Egg
Paper Mache Dinosaur Eggs are fun to make and are a great tool for imaginary play for young kids. If you place a plastic dinosaur toy inside, kids can have fun "hatching" the dinosaur: a fun idea for a dinosaur themed party...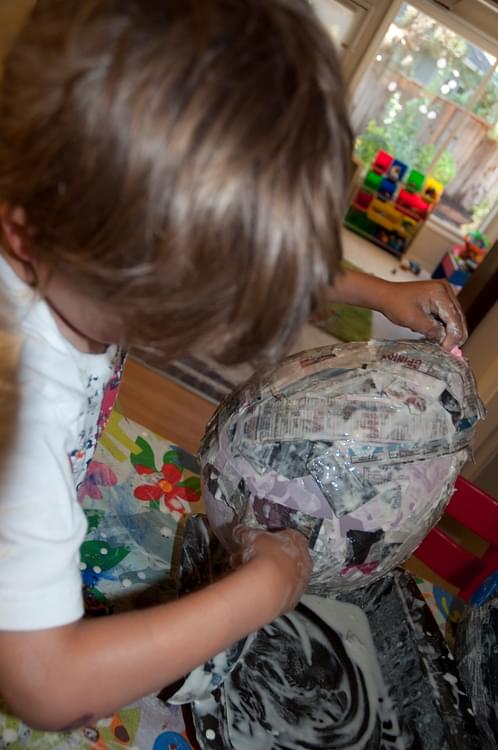 Project Info
| | |
| --- | --- |
| Difficulty | Slightly challenging |
| Duration | 1 hour |
| Age | 5+ |
| Submitted by | |
| Share | |
Materials
Acrylic or Poster Paint
Balloons
Flour
Newspaper
Water
Instructions
Cut or tear your newspaper into strips about half an inch wide
Make your paper mache paste by mixing one part flour to 2 parts water to create a paste the consistency of school glue. The amount of paste you need will depend on the size of your egg. Start initially with 1 cup of flour and 2 cups of water.
Blow up your balloon and tie a knot in the end. Note: if you wish to hide a small dinosaur or other toy in the egg, then insert the toy into the balloon prior to inflating it.
Dip a strip of newspaper into the paper mache paste. Remove and holding the strip over the bowl of paper mache paste, run your fingers down it to remove any excess paste.
Place your newspaper strip over the balloon, smoothing it flat.
Continue adding strips of newspaper in this way until the entire balloon is covered in glue soaked newspaper (apart from the tied end of the baloon which should be visible - you will use this to hang the balloon to dry). Ideally there will be several layers of newspaper.
Hang the balloon somewhere warm to dry using the tied end of the balloon.
Once the balloon is completely dry (this may take a day or more), you are ready to paint it.
Hang your balloon once again to dry.
Once the paint is dry, use a needle to pop the balloon. Your egg is now complete.
Tips
If you are careful to ensure that the balloon is completely covered in glue covered newspaper and that the newspaper is several layers thick, then your egg will be sturdy enough to hold it's shape when you pop the balloon. If you wish to make your balloon extra sturdy then you can add a second layer of paper mache to the egg after the 1st drying is complete.
Adding a tablespoon of Salt to the Paper Mache Paste will help to prevent your creations from developing mildew: you may want to consider this if you live in a particularly humid climate.
Although this project is easy to do, smaller children will probably need help covering the balloon in paper mache strips as it requires a lot of patience to get the balloon well covered.
Cover your work surfaces with a plastic sheet to make clean up easier - dried on paper mache paste can be removed with warm water.
Did you know that the largest dinosaur eggs ever found are around 18cm long. These belonged to the sauropods - giant plant-eating dinosaurs such as Brachiosaurus. These dinosaurs would eventually grow to be about 75-95 feet long, and 40 feet tall!
These dinosaur eggs make great party favors - fill small balloons with small treats before inflating. Partygoers can crack open the egg to get their treats.
Reviews
✶✶✶✶✶ Not yet reviewed
Related Projects