Noodle Sprinkler
This homemade sprinkler was a huge hit for my family - a perfect way for them to cool down in our recent heat wave.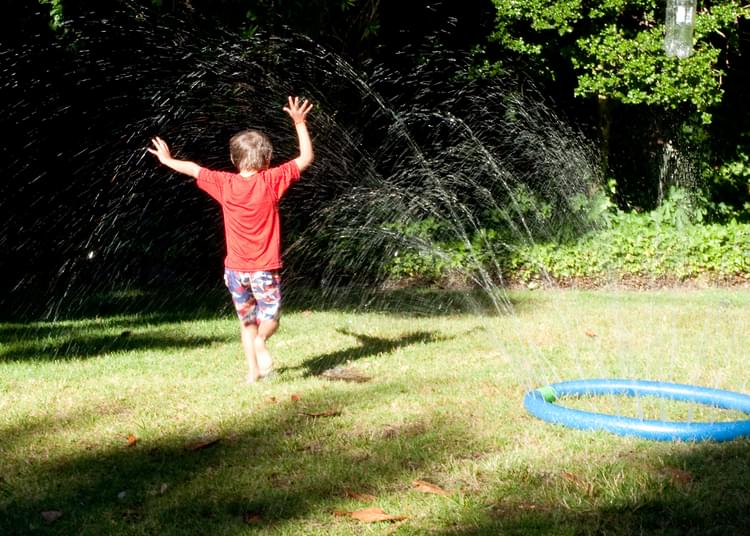 Project Info
| | |
| --- | --- |
| Difficulty | Slightly challenging |
| Duration | 15-30 minutes |
| Age | 3+ |
| Submitted by | |
| Share | |
Materials
2 Pool Noodles
Duck Tape
Garden Hose
Skewer (or Pencil)
Instructions
Tape the end of one pool noodle to the other one.
Tape the end of one of pool noodles. Use multiple strips of tape passed over the end of the noodle, and secure by wrapping a further strip of tape around the end of the tube (and over the ends of the previous strips).
Push your hose into the unsealed end of the pool noodle so that about 2 inches of the hose is in the noodle. Tape the hose to the noodle.
Form the two pool noodles into a ring shape, overlapping the ends slightly, making sure that the sealed end is on the inside of the ring, and the hose end is on the outside and secure with tape.
Lay the ring on the ground, Using a skewer or a pencil, poke holes through the top of the noodle, taking care to pierce through to the cavity inside the noodle only (in other words, you do not want to poke a hole right through the noodle).
Place the noodle sprinkler on a patch of grass, attach the other end of the hose to the faucet, and turn on the water. Fun will ensue!
Reviews
✶✶✶✶✶ Not yet reviewed
Related Projects