Canvas wall picture 3D bufferflies and flowers
This makes a lovely picture for the wall. I wanted a project that my daughter and I could do together and keep. Would also make a great project to do for Mothers Day, or as a gift for Grandma.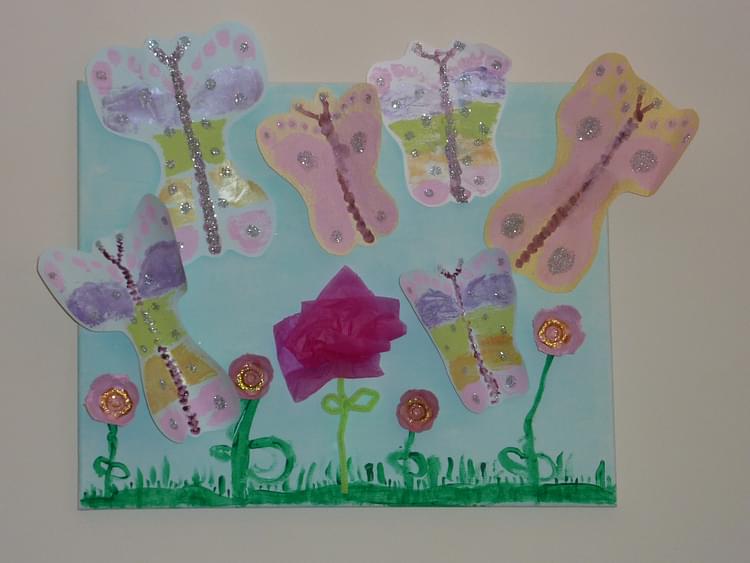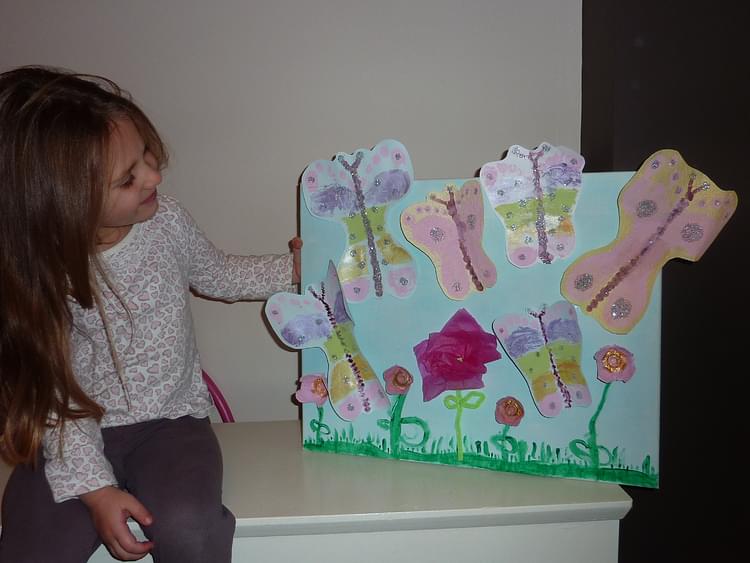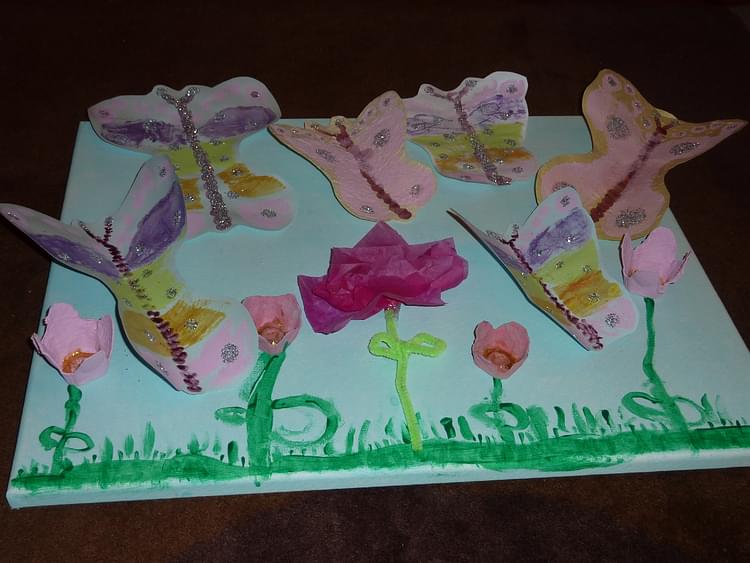 Project Info
| | |
| --- | --- |
| Difficulty | Difficult |
| Duration | Several hours |
| Age | 3+ |
| Submitted by | |
| Share | |
Materials
crepe or tissue paper (colour of your choice) (optional)
egg box
glitter (optional)
green paint for stems of flowere
green pipe cleaner (optional)
large canvas ((approximately 15 x 20 inches)g
paint colours of your choice for flowers and butterflies
pale blue paint (or darker blue and white to make pale blue)
scrap cardboard (i.e. old cereal box)
white or pale coloured card
Instructions
paint a large canvas pale blue all over and set aside to dry
Cut out and paint 4 or more egg cup flowers following 'egg cup flower canvas' project instructions on Broogly, set aside to dry
Make 5 or more butterfly footprints onto thin card following the instructions on the Broogly project 'butterfly footprints'. I did some with my feet (mum) and some with my daughters so they were different sizes and so we could both join in but this is your choice...obviously the butterfly is as big as your foot. You could do one for each member of the family or different colours or all the same. We decorated them with glitter too. Set the butterflies aside to dry
Make folded cardboard supports for the butterflies (all those you wand to be 3D). Make them 4 cm wide by 7cm long. Fold the card at 1.5 cm along (parallel) the long length and again at 2.5cm. I made this up as I went along but did four 3D and 2 flat.
(optional) Make a flower by scrunching up Crepe paper and gluing it to a green pipe cleaner with bends to make the leaves and a stem
When the butterflies are dry stick them to the supports to make them 3D like they are flying.
Lay out all the flowers and butterflies on the canvas to decide where you want to stick them
Draw the grass and stems in green pain once you know where you want them
Stick the flowers and butterflies on
Hang on the wall!! (when dry!!)
Tips
This is quite a long project for younger kids so you can do different bits on different days otherwise they may get fed up or loose concentration!
Make sure you use the plane side of the cardboard against the butterflies otherwise the colours may show through
The middle of the butterfly (the body) can be done with finger prints or with glitter
Adding glitter really helps it catch the light on the wall
You can use textured paper for the butterflies to add more texture
Pale colours don't show up too well across the room for the butterflies, I wished I didn't use pastel colours!
Reviews
✶✶✶✶✶ Not yet reviewed
Related Projects